News Release Archives
Note that the releases are accurate at the time of publication but may be subject to change without notice.
FOR IMMEDIATE RELEASE No. 2840
Mitsubishi Electric to Launch 10.4-inch XGA Color TFT-LCD Module
TOKYO, April 22, 2014
-
Mitsubishi Electric Corporation
(TOKYO: 6503) announced today it will launch a 10.4-inch XGA, color TFT-LCD module for industrial equipment indicators, medical equipment, measuring instruments, instruments in ships and trains and other industrial applications. The new model offers an unprecedented combination of super-wide 170-degree viewing angle (both horizontally and vertically), 1,000:1 high-contrast ratio, -30 to 80 degrees Celsius operating temperature range and 100,000-hour LED backlight. Mitsubishi Electric offices worldwide (
http://www.MitsubishiElectric.com/semiconductors/
) will begin selling the module on May 1.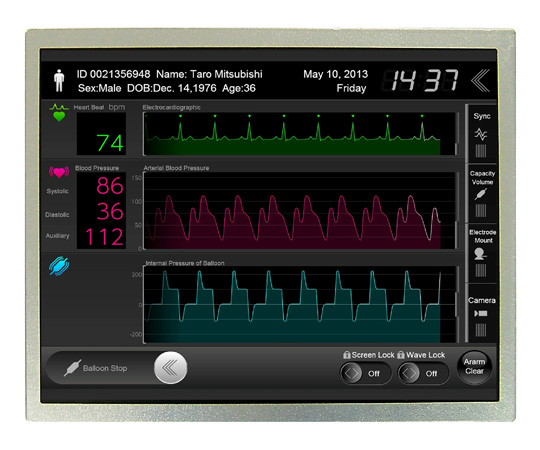 New 10.4-inch XGA Color TFT-LCD (AA104XG02)
Mitsubishi Electric's new TFT-LCD meets increasing market demands for high-contrast, wide-viewing-angle modules that can be installed easily and used widely, even in extreme operating environments. With the launch, Mitsubishi Electric will increase its lineup of super-wide-viewing-angle TFT-LCD modules to 16.

Super-wide viewing angle, high brightness&contrast, and vivid color
-
170-degree super-wide horizontal/vertical viewing angle ensures excellent visibility, even for
off-center installations.
-
High brightness in choice of either 500 cd/m2 or 900 cd/m2* and high contrast ratio of 1,000:1 for easy visibility in bright environments.
* AA104XG02: 500cd/m2, AA104XG12: 900cd/m2
Wide range of operating temperatures
-
Market-leading range from -30 to 80 degrees Celsius to withstand extreme outdoor environments.
Same dimensions and design as existing model for simplified, low-cost replacement
-
The new TFT-LCD module is compatible with Mitsubishi Electric's existing models**in terms of dimensions (width and height) and location of mounting holes for easy, low-cost replacement.
** AA104VJ02/12, AA104SL02/12, AA104SJ02, AA104XF02/12

Environmental Awareness
Mercury-free and fully compliant with Europe's Restriction of Hazardous Substances Directive (RoHS).