News Release Archives
Note that the releases are accurate at the time of publication but may be subject to change without notice.
FOR IMMEDIATE RELEASE No.2862
Mitsubishi Electric to Launch 3.6V High-power MOSFET for Commercial Two-way Radio Devices
TOKYO, August 28, 2014
-
Mitsubishi Electric Corporation
(TOKYO: 6503) announced today that from September 1 it will begin shipping samples of its model RD04LUS2 high-power metal-oxide semiconductor field-effect transistor (MOSFET), which is designed for use in high-frequency power amplifiers of commercial two-way radio devices. The model offers industry-leading 4W output when using a 3.6V Li-ion 1-cell battery. Mitsubishi Electric will initially produce 200,000 units per month.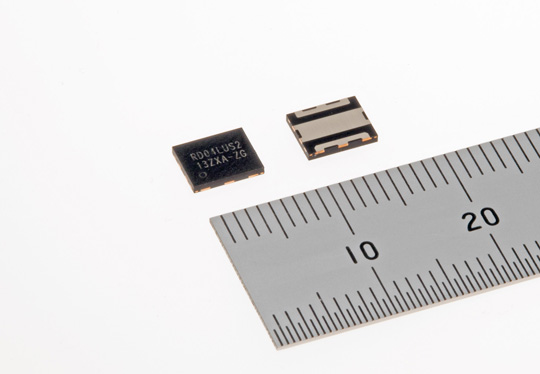 While the popularization of mobile phones has led to 3.6V Li-ion batteries costing less than traditional 7.2V batteries, the need for a higher-power MOSFET arose because lower-voltage batteries decrease the MOSFET's output power. Mitsubishi Electric has now met this demand with its new MOSFET, which offers unmatched 4W output power using a 3.6V battery.

Features
1)
Industry's highest power output


| | |
| --- | --- |
| - | Using a high-density layout for its new MOSFET, Mitsubishi Electric has achieved an industry-leading 4W power output under 3.6V operation, representing a 74% improvement over the company's predecessor, the RD02LUS2. |
| - | High-power output extends radio transmission distances when using a 3.6V Li-ion 1-cell battery. |

2)
Top-level 65% drain efficiency


| | |
| --- | --- |
| - | The optimized MOSFET structure enables the RD04LUS2 to offer top-level 65% drain efficiency at 527 MHz. |
| - | Low power consumption extends the available duration of radio transmission. |