News Release Archives
Note that the releases are accurate at the time of publication but may be subject to change without notice.
FOR IMMEDIATE RELEASE No.2869
Mitsubishi Electric to Modernize Deutsche Bahn ICE-2 Train Equipment
Company's first delivery of train equipment to Deutsche Bahn
TOKYO, September 25, 2014
-
Mitsubishi Electric Corporation
(TOKYO: 6503) announced today that it has been awarded a project to modernize traction equipment in 46 Intercity Express 2 (ICE-2) High-Speed trains by Deutsche Bahn AG (DB). Products will be sequentially delivered after equipment for the first two trains receives homologation. Total sales of approximately 22 million EUR, or about 28 million USD, are expected by fiscal 2019.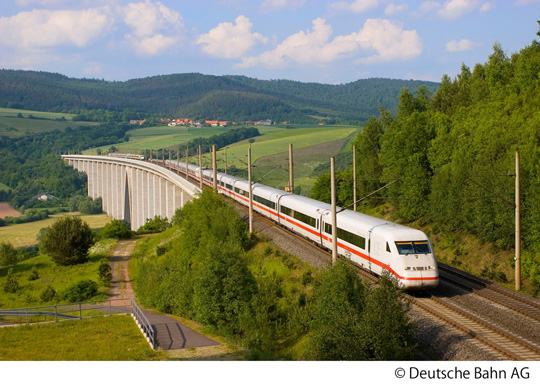 Intercity Express 2 high-speed trains by DB
DB announced its international tender to modernize the ICE-2 trains' traction equipment, the part that actually moves the trains forward, in 2013. Mitsubishi Electric will replace the current gate turn-off thyristor (GTO) power modules with insulated gate bipolar transistor (IGBT) power modules. The upgrade will result in decreased energy consumption and longer train life due to the new modules' reduced size and weight. Mitsubishi Electric will supply and install the new equipment, test the trains and assist in obtaining homologation.

Bids were evaluated for reliability, energy consumption, maintainability, delivery schedule and price.

The DB Group is a major railway operator with one of the longest track lengths in Europe. ICE-2, one of DB's high-speed train series, started operating in 1997.

Mitsubishi Electric first supplied railway equipment in Europe for the Electric Locomotive Project in Spain in 1967. Over the years the company has steadily grown its involvement with the European railway market.