News Release Archives
Note that the releases are accurate at the time of publication but may be subject to change without notice.
FOR IMMEDIATE RELEASE No.2884
Mitsubishi Electric to Launch Large Hybrid SiC DIPIPM for PV Application
More efficient power modules for PV power conditioner applications
TOKYO, November 20, 2014
-
Mitsubishi Electric Corporation
(TOKYO: 6503) announced today the launch of its large hybrid SiC transfer-mold dual in-line package intelligent power module (DIPIPM
TM
), which incorporates a SiC Schottky barrier diode and seventh-generation IGBT chips featuring the carrier-stored trench-gate bipolar transistor (CSTBT
TM
) structure. The new module, which reduces the power consumption and size of PV inverter applications, will begin selling on November 28.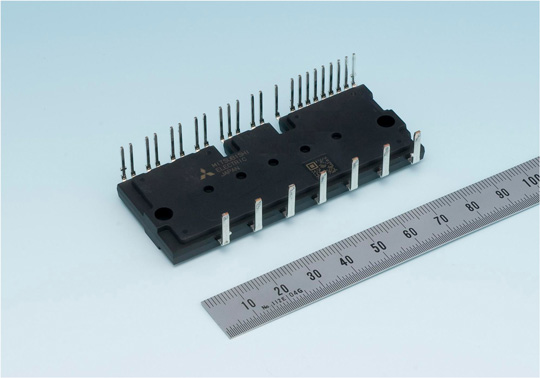 Large hybrid SiC DIPIPM (PSH50YA2A6)
Product Features
1)
Reduces power consumption of PV inverter systems


| | |
| --- | --- |
| - | Hybrid structure achieved with SiC Schottky barrier diode and seventh-generation IGBT chips |
| - | Reduces power loss by about 25% compared with Mitsubishi Electric's existing PV product (PS61A99). |

2)
Helps downsize PV inverter system thanks to modified short-circuit protection scheme


| | |
| --- | --- |
| - | The IGBT chip has a current-sensing pin that could detect a couple of thousands of the main collector currentand can be used for external short-circuit protection function. |
| - | Current-sensing pin eliminates the need for a large external shunt resistor, which helps downsize power conditioner inverter systems |
Sales Schedule
Series
Model
Specification
Shipment
Large Hybrid SiC DIPIPM
for PV applications
PSH50YA2A6
50A/600V
Nov. 28, 2014