News Release Archives
Note that the releases are accurate at the time of publication but may be subject to change without notice.
FOR IMMEDIATE RELEASE No.2893
Mitsubishi Electric to Launch Power Semiconductor Modules for 3-level Inverter
Enhanced low-power consumption and miniaturization for large-capacity industrial equipment
TOKYO, December 25, 2014
-
Mitsubishi Electric Corporation
(TOKYO: 6503) announced today a new family of power semiconductor modules optimized for 3-level inverters that will enhance low-power consumption and size reduction for large-capacity industrial equipment in the 125kW-500kW class and above. Sales will begin in June 2015.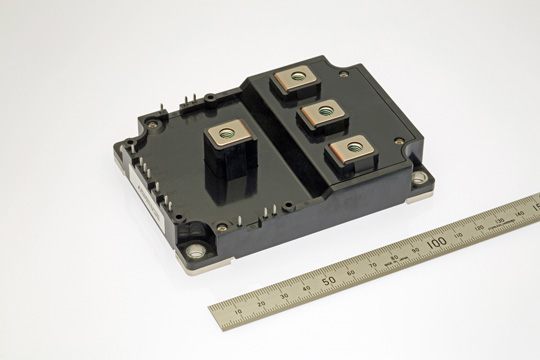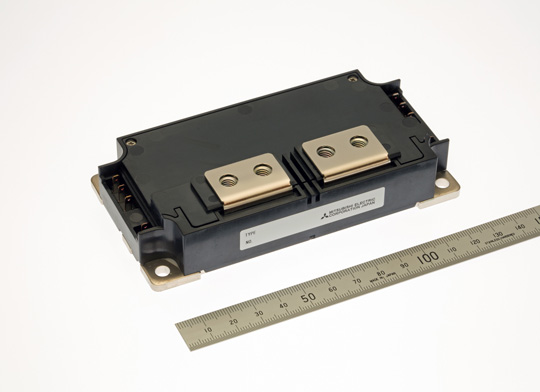 CM1400HA-24S / RM1400HA-24S
CM1000HA-34S / CM500C2Y-24S
Product Features
1)
About 30% reduction in power consumption owing to 3-level control


| | |
| --- | --- |
| - | Enable for use in 3-level inverters to lower the power consumption and reduce the size of large-capacity industrial equipment. |
| - | About 30% reduction* in power consumption compared with mainstream 2-level inverters. |
| | * Comparison of 3-level inverter with our new products and 2-level inverter with our current products |

2)
Low inductance due to new packages


| | |
| --- | --- |
| - | Optimize IGBT specifications using carrier-stored trench-gate bipolar transistor (CSTBTTM) structure for 3-level inverters. |
| - | Reduce circuit inductance in single and parallel operations due to new packages** devised at the terminal layout and form. |
| | ** 1in1/2in1 type: 130mm x 67mm; 4in1 type: 115mm x 82mm |

3)
Lineup offers both downsizing and diverse circuit configurations for inverters


| | |
| --- | --- |
| - | For mid-capacity inverters of above 125kW, downsizing is achieved with a narrow-design 4in1 model, which also offers low loss. |
| - | For larger inverters of above 500kW, the 1in1 and 2in1 models offer a wide variety of circuit layouts. |
Sales Schedule
Product
Model
Specification
Shipment
Power
semiconductor
modules
for 3-level inverter
CM400ST-24S1
400A/1200V 4in1, IGBT module
June, 2015
CM1400HA-24S
1400A/1200V 1in1, IGBT module
July,2015
RM1400HA-24S
1400A/1200V 1in1, Diode module
CM1000HA-34S
1000A/1700V 1in1, IGBT module
August, 2015
CM500C2Y-24S
500A/1200V 2in1 Emitter common,
IGBT module