News Release Archives
Note that the releases are accurate at the time of publication but may be subject to change without notice.
FOR IMMEDIATE RELEASE No. 2916
Mitsubishi Electric Delivers 51 Elevators and Escalators for Shanghai New World Daimaru Department Store in China
TOKYO, March 5, 2015
-
Mitsubishi Electric Corporation
(TOKYO: 6503) announced today that it has delivered 15 elevators and 36 escalators, including 12 of its unique spiral escalators, to Shanghai New World Daimaru Department Store, China's new 12-floor commercial facility whose full opening is scheduled for May.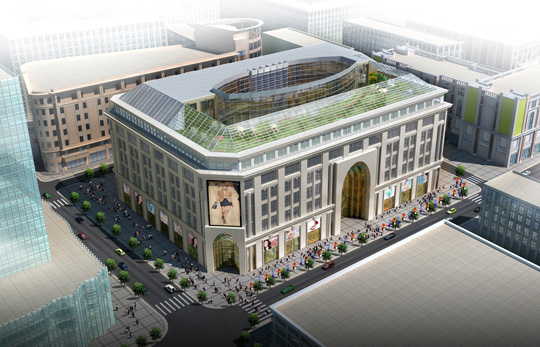 Rendering of the department store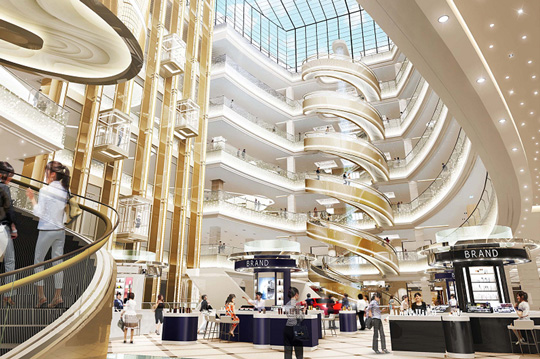 Elevators and spiral escalators (image)
The 12 spiral escalators, the largest order for a single project to date, serve six floors of the department store and are installed in the central atrium. The highly sophisticated design and wide perspective give passengers the astonishing feeling of gliding through the air in graceful arcs.

Mitsubishi Electric first developed the spiral escalator in 1985 and has since delivered 103 units to customers in Japan and across the world.

Center Shift Method
The challenge to building a curved escalator is that horizontal speed decreases as it moves along the slope, making circular designs impractical. Mitsubishi Electric's engineers overcame this dilemma by inventing the Center Shift Method, shifting the center of the circle around which the escalator rotates in response to the degree of gradient, realizing smooth rotational movement in perfect harmony with vertical movement.

Unparalleled Creativity and Highly-accurate Processing
The escalators achieve smooth movement through specially designed chains that can respond to various angles of motion and rails and handrails made with proprietary processing techniques for optimal flexibility, yet the increased range of motion does not sacrifice precision, as the final processing accuracy is 0.1 mm.

The spiral escalators and see-through observation elevators for the department store were manufactured by Inazawa Works of Mitsubishi Electric, Japan. The other elevators and escalator units were locally manufactured by Shanghai Mitsubishi Elevator Co., Ltd. in China.