News Release Archives
Note that the releases are accurate at the time of publication but may be subject to change without notice.
FOR IMMEDIATE RELEASE No. 2928
Mitsubishi Electric to Launch DIPIPM+ Series
Smaller, simpler design for inverter systems in air conditioners and industrial applications
TOKYO, May 7, 2015
-
Mitsubishi Electric Corporation
announced today the launch of DIPIPM+, new models in its DIPIPM
TM
series of inverter applications featuring loading converter and brake circuits for reduced design load and size. Sales begin May 29.

The new models will be exhibited at major trade shows including Power Conversion Intelligent Motion (PCIM) Europe 2015 in Nuremberg, Germany from May 19 to 21, MOTORTECH JAPAN 2015 during TECHNO-FRONTIER 2015 in Japan from May 20 to 22, and PCIM Asia 2015 in China from June 24 to 26.

Mitsubishi Electric commercialized its first DIPIPM transfer-mold intelligent power module in 1997, the beginning of its ongoing contributions to miniaturization and energy savings in inverter systems. DIPIPM has contributed to miniaturization and energy-savings in inverter systems. To achieve more compact and simpler design, Mitsubishi Electric has developed DIPIPM+ that has inverter, converter and brake circuit with one package.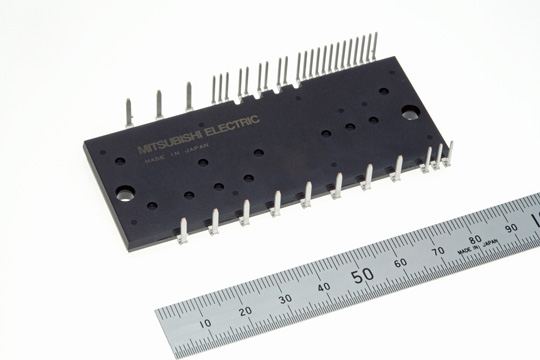 Product Features
1)
Inverter, converter and brake circuits in one package for inverter systems


| | |
| --- | --- |
| - | DIPIPM with a built-in inverter and a driving circuit, and newly added converter and brake circuits, and incorporated into one package |
| - | Realized the small package by Mitsubishi Electric's own direct wire bonding technology |
| - | Built-in bootstrap diode (BSD) with current limit resistor and analog temperature voltage output |

2)
Downsizing and simpler design for inverter systems


| | |
| --- | --- |
| - | Reduced external components thanks to built-in converter and brake circuits |
| - | Simpler design for inverter systems with simpler wiring pattern on board |
Sale Schedule
Series
Model
Specification
Shipment
DIPIPM+
PSS05MC1FT
5A/1200V
June 30, 2015
PSS10MC1FT
10A/1200V
PSS15MC1FT
15A/1200V
PSS25MC1FT
25A/1200V
May 29, 2015
PSS35NC1FT*
35A/1200V
June 30, 2015
PSS50MC1F6
50A/600V
*
Does not include a brake circuit