News Release Archives
Note that the releases are accurate at the time of publication but may be subject to change without notice.
FOR IMMEDIATE RELEASE No. 2941
Mitsubishi Electric Europe B.V. Strengthens Air Conditioning Business in Norway
Mitsubishi Electric Europe B.V acquires Norwegian Air Conditioning distributor MIBA
TOKYO, June 24, 2015
-
Mitsubishi Electric Corporation
announced today that its European subsidiary, Mitsubishi Electric Europe B.V, has signed an agreement to purchase all the shares of its Norwegian Air Conditioning equipment distributor MIBA AS, in a step to strengthen its presence in the Norwegian market.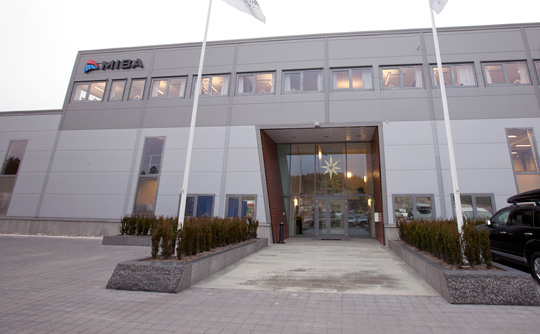 MIBA office in Ytre Enebakk, Norway
In line with the continued strong growth of the Norwegian economy, the air conditioning market has expanded in recent years against the background of demand for low energy consumption from air conditioning systems. Furthermore, it is expected that demand for hot water heat pumps will also increase.

Masahiko Konishi, European Product Marketing Director for Air Conditioning Systems at Mitsubishi Electric comments: "Bringing MIBA into the Mitsubishi Electric fold is a great step forward for us as we look to further expand our air conditioning business in Norway, They have extensive local knowledge and expertise which will allow our business to grow and flourish, and we welcome them on board."

MIBA has been selling Mitsubishi Electric air conditioning equipment in Norway for almost 25 years, steadily gaining a foothold in the market with its strong technical expertise and customer friendly after-care service.

By acquiring MIBA and integrating its excellent sales knowledge and extensive local sales network, Mitsubishi Electric aims to expand its air conditioning business in Norway by securing new customers and deepening its relationship with its existing ones. With a targeted turnover of around 36 million EURO by 2018 in the Norwegian Air Conditioning market, Mitsubishi Electric will contribute to the energy efficiency ethos in Norway by providing energy and resource-saving products.