News Release Archives
Note that the releases are accurate at the time of publication but may be subject to change without notice.
FOR IMMEDIATE RELEASE No. 2946
Mitsubishi Electric to Launch 8.4-inch and 12.1-inch XGA Color TFT-LCD Modules
TOKYO, July 1, 2015
-
Mitsubishi Electric Corporation
announced today the launch of its new 8.4-inch and 12.1-inch XGA TFT-LCD modules for industrial applications such as medical equipment, measuring instruments and ship/train instruments. The modules feature an unprecedented combination of super-wide 170-degree horizontal/vertical viewing angles, high resolution, 500/600/1,000 cd/m
2
high brightness, 1000:1 high contrast ratio, -30 to 80 degrees Celsius operating temperature range, and 100,000 standard hours of LED backlight life. Sales will begin August 1 through Mitsubishi Electric offices worldwide.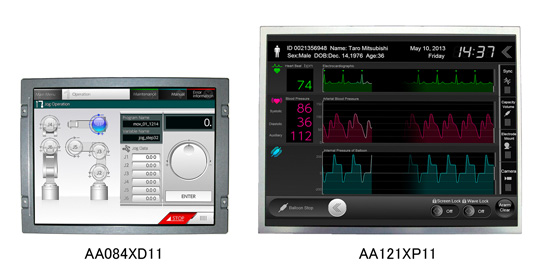 The new TFT-LCD modules meet the increasing market demands for high contrast, high resolution, wide viewing angles and resistance to extreme temperatures for versatile applications and installations. With their additions, Mitsubishi Electric's lineup of TFT-LCD modules with super-wide viewing angles increases to 26.

Product Features

1)
Super-wide viewing angle, high resolution, high brightness and contrast ratio


| | |
| --- | --- |
| - | 170-degree super-wide horizontal/vertical viewing angles ensure excellent visibility, even with off-center installations |
| - | High resolution of 1,024 (H) x 768 (V) XGA capably handles dense on-screen information |
| - | High brightness of 500/600/1,000 cd/m2* and high contrast ratio of 1000:1 for easy visibility in bright environments |
| * | AA121XP01: 500cd/m2, AA084XD01: 600cd/m2, AA084XD11 & AA121XP11: 1,000cd/m2 |

2)
Durability for extreme outdoor environments


| | |
| --- | --- |
| - | Market-leading range of operating temperatures from -30 to 80 degrees Celsius |

3)
Long-life, inverter-less backlight through use of white light-emitting diodes


| | |
| --- | --- |
| - | Circuit board-embedded LED driver help realize compact, low-cost design** |
| - | LED backlight has a typical operating life of 100,000 hours at an ambient temperature of 25 degrees Celsius |
| - | No high-voltage inverter is required |
| ** | AA084XD01&AA121XP01 models |
Sales Schedule

Product
Model
Shipment
Production
8.4-inch XGA
TFT-LCD Module
AA084XD01
August 1, 2015
2,000 units each per month
AA084XD11
12.1-inch XGA TFT-LCD Module
AA121XP01
AA121XP11