News Release Archives
Note that the releases are accurate at the time of publication but may be subject to change without notice.
FOR IMMEDIATE RELEASE No. 3025
Mitsubishi Electric Shipped First 765kV Power Transformer from North American Subsidiary
First 765kV transformer manufactured in the United States of America in 25 years
TOKYO, May 12, 2016
-
Mitsubishi Electric Corporation
(TOKYO: 6503) announced today that Mitsubishi Electric Power Products, Inc. (MEPPI), a Mitsubishi Electric's subsidiary based in North American, shipped its first high-capacity 765kV power transformer to American Electric Power (AEP) on April 29. The shell-type 765kV transformer was manufactured at the company's factory in Memphis, Tennessee. It is the first transformer of this category to be produced at MEPPI and also the first to be manufactured locally in the United States of America in 25 years. MEPPI is the only factory in the United States of America* capable of manufacturing power transformers with a capacity of 765kV.

| | |
| --- | --- |
| * | Based on Mitsubishi Electric's own research as of May 12 |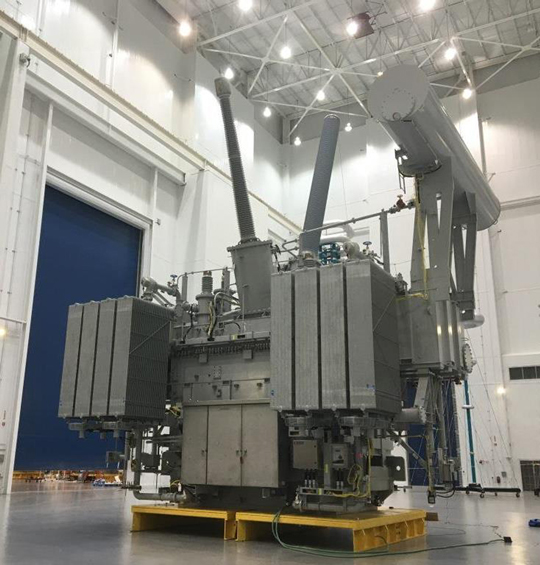 High-capacity 765kV transformer
Power transformers are electrical devices mainly located in power plants or electrical substations that support the efficient supply of electricity. Mitsubishi Electric manufactures both shell-type and core-type power transformers. Shell-type transformers allow for compact design, low energy losses and high seismic capacity due to their formfitting design.

The new 765kV transformer uses a shell-type design to compactly contain the iron core, winding and insulator, realizing a 765kV voltage capacity and a 750 MVA rating.

The Power Transformer Division of MEPPI started operations in April 2013. Leveraging its experience and expertise in supplying shell-type 500kV and 345kV 1-phase power transformers to the North American market, MEPPI was able to realize this new high-capacity 765kV power transformer.

Looking forward, Mitsubishi Electric will further expand its highly reliable power transformer business to contribute to safe power distribution in North America.