News Release Archives
Note that the releases are accurate at the time of publication but may be subject to change without notice.
FOR IMMEDIATE RELEASE No. 3039
Mitsubishi Electric Launches D-SMiree System for Medium- and Low-voltage DC Distribution
Will realize more efficient and sustainable power distribution with minimum energy loss
TOKYO, July 27, 2016
-
Mitsubishi Electric Corporation
(TOKYO: 6503) announced today the launch of a newly branded lineup, D-SMiree ─
D
iamond-
S
mart
M
edium Voltage Direct Current Distribution Network System for
I
nnovative
R
eliable
E
conomical
E
cology ─ for medium- and low-voltage direct-current (MV/LV DC) distribution systems of voltages 1,500V DC and below.

Product development and testing, as well as the exhibition and promotion of direct-current distribution systems, will be handled at the DC Development and Demonstration Facility, which was inaugurated in July at Mitsubishi Electric's Power Distribution Systems Center in Marugame, Kagawa Prefecture, Japan. D-SMiree sales for MV/LV DC distribution systems are expected to reach 10 billion yen, or approximately US$94.1 million, by 2025.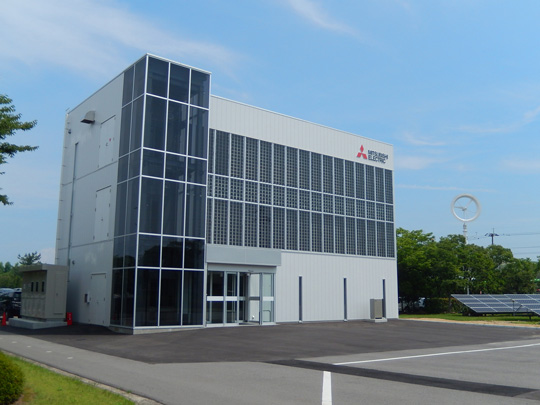 D-SMiree Development and Demonstration Facility
In line with the increasing importance of data centers and cloud services, as well as the business continuity plans of corporations, particularly since the Great Eastern Japan Earthquake in 2011, a growing focus is being cast on solar-power generation systems that incorporate storage batteries and Net Zero Energy Buildings. Consequently, environmentally conscious direct-current distribution systems that combine renewable energy and electrical accumulators are gaining popularity.

Mitsubishi Electric has been contributing to the growing direct-current ecosystem by leveraging technologies that it originally developed for DC power generation, high-speed circuits for railways and data-center energy systems. D-SMiree now unifies these initiatives under a single brand.

The facility in Marugame will develop next-generation MV/LV DC distribution systems for DC power distribution based on enhanced reliability, environmental friendliness and cost effectiveness. Advanced smart-grid technologies and storage-battery systems will be incorporated in enhanced, extra-efficient solutions for purposes including the following:
| | |
| --- | --- |
| - | Power generation ─ Easy interconnection of diversified renewable energy sources such as solar, wind, and fuel cells, without the need for electrical synchronization |
| - | Energy storage ─ Highly efficient operation of storage batteries by leveraging Energy Management System power-generation and demand-forecast functions |
| - | Efficiency ─ Reduced electrical loss through reduced power conversion compared to traditional AC distribution systems |

The D-SMiree lineup will feature products and applicable systems, eventually including 380V systems that are undergoing verification testing at the DC Development and Demonstration Facility. 1500V systems also are expected to be introduced to the global market by 2017.