News Release Archives
Note that the releases are accurate at the time of publication but may be subject to change without notice.
FOR IMMEDIATE RELEASE No. 3046
Mitsubishi Electric to Release Sample 220W-output power GaN-HEMT for 2.6GHz-band 4G Mobile Communication Base Transceiver Stations
For BTS small size and low power consumption by high performance
TOKYO, August 31, 2016
-
Mitsubishi Electric Corporation
(TOKYO: 6503) announced today that it has developed a 220W-output power Gallium Nitride High Electron Mobility Transistor (GaN-HEMT) offering world-leading* efficiency for 2.6GHz-band Base Transceiver Stations (BTS) of fourth-generation (4G) mobile communication systems. Samples will be released starting November 1.

| | |
| --- | --- |
| * | According to Mitsubishi Electric as of August 31, 2016 |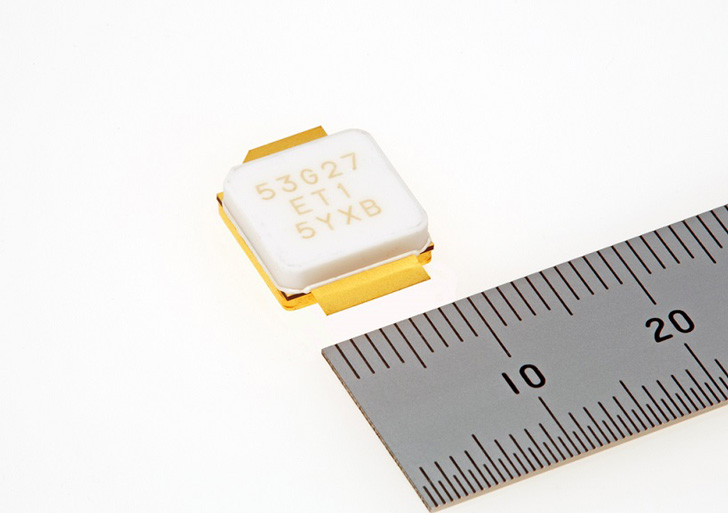 New GaN-HEMT for 2.6GHz 4G BTS (MGFS53G27ET1)
High-speed 4G mobile communication systems including Long Term Evolution (LTE) and LTE-Advanced incorporate are being equipped with progressively smaller BTS for macro-cells to increase data capacity and to reduce power consumption. Mitsubishi Electric's highly efficient new GaN-HEMT for 2.6GHz-band macro-cell BTS is expected to help realize even smaller and lower-power BTS.

Product Features
1)
World-leading efficiency and transistor optimization


| | |
| --- | --- |
| - | High drain efficiency** of 74% |
| - | High efficiency results in simpler cooling system, which reduces BTS size and power consumption |

2)
Size reduction


| | |
| --- | --- |
| - | Flangeless ceramic package reduces size of device itself and related power amplifier modules |

3)
Expanded GaN-HEMT lineup


| | |
| --- | --- |
| - | Added flangeless ceramic package for 220W models for 2.6GHz-band macro-cell BTS |
| ** | Load pull measurement |