News Release Archives
Note that the releases are accurate at the time of publication but may be subject to change without notice.
FOR IMMEDIATE RELEASE No. 3087
Mitsubishi Electric Introduces New FA-IT Open Platform
Creates new value chains by connecting people, processes and things
TOKYO, March 6, 2017- Mitsubishi Electric Corporation (TOKYO: 6503) announced today its new FA-IT Open Platform for factory automation based on edge computing. The platform facilitates connectivity between factory shop floors and value chains via Internet of things (IoT) systems to enable the rapid collection, analysis and utilization of data for smart manufacturing.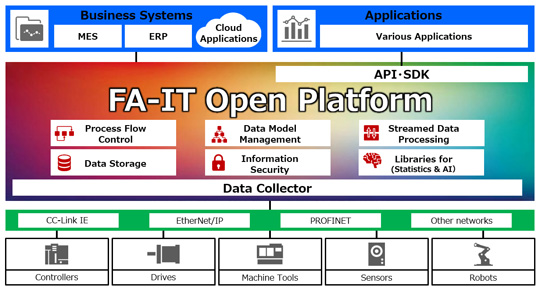 Key Features
1)

Application development and connection to production equipment

Vendors can download the free development environment to create manufacturing applications for operation on the platform, including connecting the platform to industrial networks for the collection of data from diverse devices and production equipment. Mitsubishi Electric is also considering opening an online application store.

2)

Simple data model construction for manufacturing sites


Users can design, manage and access equipment data models based on the Industrie 4.0 administration shell* without expert knowledge in subjects such as programming. Also, data can be effectively selected and analyzed.

| | |
| --- | --- |
| * | System for storing information on the design, operation and maintenance of total equipment in factories |

3)

Connection with various clouds and IT systems


The cloud-connected platform can be used to link manufacturing sites with IT vendors'own

cloud-supported manufacturing-optimization services for supply chains, administration of multiple factories worldwide and other applications.
Mitsubishi Electric will continue developing the platform itself and applications for the platform through collaboration with IT companies and others, focusing on connection to increased equipment and devices,strengthening security measures and incorporating artificial intelligence.

The platform will also be integrated with solutions based on Mitsubishi Electric's e-F@ctory ecosystem for factory automation.