News Release Archives
Note that the releases are accurate at the time of publication but may be subject to change without notice.
FOR IMMEDIATE RELEASE No. 3090
Mitsubishi Electric to Launch Compact Integrated 100Gbps APD-ROSA
Small, low-power-consumption device supports extra-long-haul 100Gbps transmissions equipment
TOKYO, March 15, 2017- Mitsubishi Electric Corporation (TOKYO: 6503) announced today that it will begin shipping an avalanche photodiode (APD) receiver optical subassembly (ROSA) capable of supporting 100Gbps optical transmissions on June 1. The new ROSA, which incorporates four high-sensitivity APDs integrated with a compact optical demultiplexer, supports extra-long-haul transmissions, extra-low power consumption and downsizing in Quad Small Form-factor Pluggable (QSFP28) transceivers.



The device will be displayed at the Optical Fiber Communication Conference and Exhibition (OFC) 2017 in Los Angeles, California from March 21 to 23.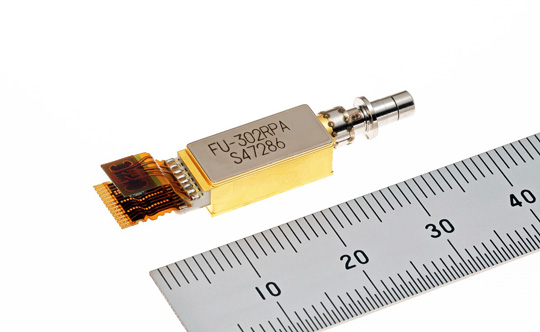 Compact integrated 100Gbps APD-ROSA (FU-302RPA)
In response to the growing need to install communication equipment in increasingly confined spaces, Mitsubishi Electric's new APD ROSA offers one of the industry's smallest footprints combined with 40km transmission capability, which will help downsize 100Gbps communication equipment and expand high-speed 100Gbps optical transmission networks.
Product Features
1)
APD ROSA supports 100Gbps optical transmissions up to 40km


| | |
| --- | --- |
| - | High-sensitivity APD with wide bandwidth realized by employing optimal chip structure |
| - | 40km transmission possible without an optical amplifier built in optical transceiver |
| - | Suitable for long-distance transmissions, such as between data centers |

2)
Complies with common specifications of coming optical transceivers


| | |
| --- | --- |
| - | Built to QSFP28 specifications of next-generation small-footprint optical transceivers as an optical-amplifier-free APD with optimal optical demultiplexer |

3)
Power consumption among the industry's lowest


| | |
| --- | --- |
| - | Low-power trans-impedance amplifier for APD signals helps to cut power consumption to just 0.4W (typical value), one of the industry's lowest ratings |
Sale Schedule
Product
Model
Features
Shipment date
Compact Integrated
100Gbps APD-ROSA
FU-302RPA
- APD with 1.3μm wavelength
- LC receptacle
June 1, 2017