News Release Archives
Note that the releases are accurate at the time of publication but may be subject to change without notice.
FOR IMMEDIATE RELEASE No. 3104
Mitsubishi Electric to Launch LV100-type X-Series HVIGBT Modules
Top-class current density will contribute increased power output in inverter systems
TOKYO, May 11, 2017
-
Mitsubishi Electric Corporation
(TOKYO: 6503) announced today that it has launched two new LV100-type X-Series HVIGBT modules sequentially in September. The modules, which will offer the highest power density available on the market, will enable inverter systems to achieve increased power output and efficiency, as well as more flexible configurations and higher reliability. In addition, further line-up of SiC modules is planned in order. Mitsubishi Electric's HVIGBT modules play a vital role in controlling power conversion in industrial electronic systems for railways, power transmission and other large industrial application.

The new modules will be exhibited at Power Conversion and Intelligent Motion (PCIM) Europe 2017 in Nuremberg, Germany from May 16 to 18 and PCIM Asia 2017 in Shanghai, China from June 27 to 29.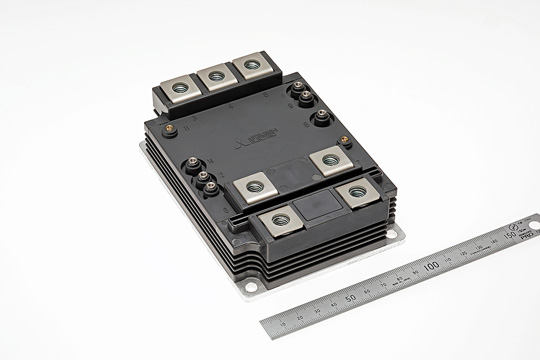 LV100-type X-Series HVIGBT module
Sales Schedule
Product
Model
Specification
Shipment
LV100-type
X-Series HVIGBT
module
CM450DA-66X
3.3kV/450A/2in1
From September 2017
CM600DA-66X
3.3kV/600A/2in1
Product Features
1)
Industry-leading power density for increased capacity


| | |
| --- | --- |
| - | Seventh-generation IGBTs adopting CSTBT and RFC diodes realize the highest power density of 8.57A/cm2 as Si-module in the industry <3.3kV/600A> |
| - | Three AC main terminals spread and equalize current density to increase inverter capacity |

2)
Easy parallel connection for flexible configurations and capacities


| | |
| --- | --- |
| - | The terminal layout is optimized for easy paralleling and flexible inverter configurations and capacities |

3)
New package structure for extra reliability


| | |
| --- | --- |
| - | Integration of the isolating plate and heat sink increases the thermal cycle lifetime for relatively long-term cycling of case temperatures |
| - | Lower thermal resistance increases power cycle lifetime for relatively short-term cycling of chip temperatures |