News Release Archives
Note that the releases are accurate at the time of publication but may be subject to change without notice.
FOR IMMEDIATE RELEASE No. 3109
Mitsubishi Electric Consolidates AI Technology under "Maisart" Brand
Making devices smarter and life more secure, intuitive and convenient
TOKYO, May 24, 2017
-
Mitsubishi Electric Corporation
(TOKYO: 6503)announced today its new "Maisart" brand encompassing the company's proprietary artificial intelligence (AI) technology, including its compact AI, automated design deep-learning algorithm and extra-efficient smart-learning AI. Maisart is an abbreviation for "
M
itsubishi Electric's
AI
creates the State-of-the-
ART
in technology." Under the corporate axiom "Original AI technology makes everything smart," Mitsubishi Electric is leveraging original AI technology and edge computing to make products smarter and life more secure, intuitive and convenient.

Mitsubishi Electric's new AI technology mark
Mitsubishi Electric's new brand is expected to raise awareness of the company's AI activities, help accelerate AI-based equipment business and promote the wider applicability of AI in diverse business fields, including high-level information processing. The global AI market was estimated to be worth 3.6 trillion yen (approximately US$ 35 billion) in 2015 and annual growth is expected to average 30 percent, according to Ernst & Young Institute Co., Ltd. Mitsubishi Electric's original AI technology emphasizes compact deep-learning algorithms and instrumental knowledge for efficient reinforcement learning and efficient time-series big data analysis.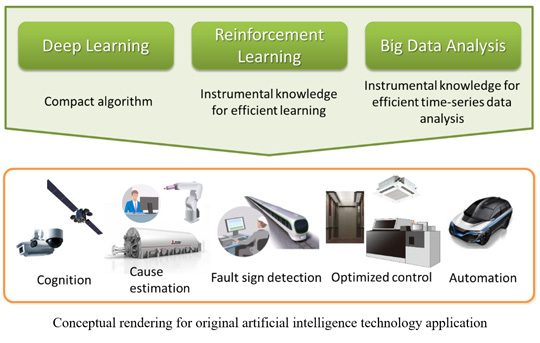 Trademark
Approval of the Maisart brand is pending.