News Release Archives
Note that the releases are accurate at the time of publication but may be subject to change without notice.
FOR IMMEDIATE RELEASE No. 3113
Mitsubishi Electric Uses Illumination for Building Guidance Systems
Illuminated projections are expected to streamline in-building traffic
TOKYO, May 24, 2017
-
Mitsubishi Electric Corporation
(TOKYO: 6503) announced today an innovative in-building guidance system that uses illuminated projections to provide building visitors with directions and detailed elevator-status information. The system's value-added guidance to elevators restrooms and other building facilities, including wheelchair-specific guidance, is expected to help people move about buildings extra smoothly and efficiently.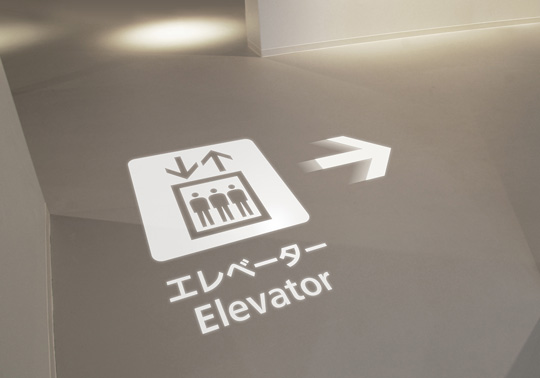 Guidance projected on floor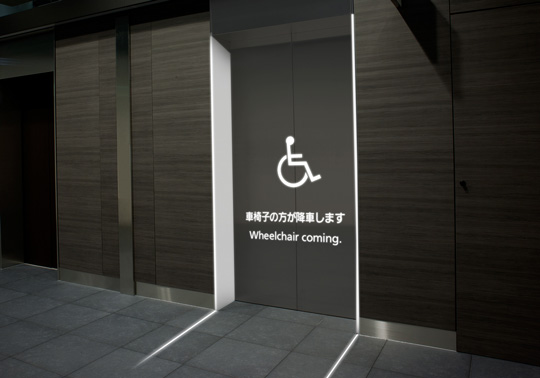 Guidance projected on elevator door
The system provides highly practical guidance in the form of large, easy-to-understand illuminations that are projected onto floors and walls. Information indicates the direction to the elevator and its location, helping building visitors to easily move about the building.

For each elevator, the current floor location and level of congestion are displayed on the outer doors. A wheelchair-passenger indicator alerts people waiting outside the elevator to begin making room so that the passenger can exit easily.

The system is expected to facilitate smooth pedestrian traffic in large buildings, particularly multiuse buildings with potentially confusing arrangements of offices, shops and residences. The system also is expected to be used for international event spaces, which have special needs for universal design to accommodate foreigners, elderly people and wheelchair users.

We coordinate standardization of the illumination systems with the National Institute of Advanced Industrial Science and Technology.