News Release Archives
Note that the releases are accurate at the time of publication but may be subject to change without notice.
FOR IMMEDIATE RELEASE No. 3127
Mitsubishi Electric to Launch 10.1-inch WXGA Color TFT-LCD Module
Suitable for measuring instruments and handheld devices
TOKYO, September 6, 2017
-
Mitsubishi Electric Corporation
(TOKYO: 6503) announced today the coming launch of a new 10.1-inch WXGA TFT-LCD module for industrial applications including measuring instruments and handheld devices. The module will offer an unprecedented combination of high-resolution WXGA (1,280×800 dots), super-wide 170-degree horizontal/vertical viewing angles, 1,000 cd/m
2
high brightness, operating temperature range of -40 to 80 degrees Celsius, and thin, lightweight design. Sample sales will begin October 1 through Mitsubishi Electric offices worldwide.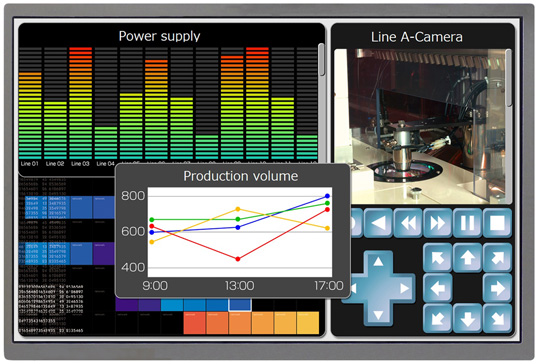 Mitsubishi Electric Color TFT-LCD Module AA101TA12
The new TFT-LCD module will satisfy increasing market demands for high resolution, wide viewing angles, high brightness and resistance to extreme environments for versatile applications and installations. Mitsubishi Electric now offers 31 TFT-LCD modules with super-wide viewing angles.

Product Features
1)
High resolution, super-wide viewing angle, high brightness and wide temperature range for versatile measuring instruments applications and installations


| | |
| --- | --- |
| - | High resolution 1,280 (H) × 800 (V) WXGA screen capably handles dense information |
| - | 170-degree super-wide horizontal/vertical viewing angle ensures excellent visibility for a wide variety of measuring instruments |
| - | Market-leading range of operating temperatures from -40 to 80 degrees Celsius suitable for industrial devices used in extreme outdoor environments |
| - | High brightness of 1,000 cd/m2 and high contrast ratio of 1000:1 for easy visibility in bright environments |

2)
Thin, lightweight design suitable for handheld devices


| | |
| --- | --- |
| - | With a thickness of 8.5mm and weight of 310g, it is 12% thinner and 23% lighter than the existing AA121TH11 model, which is 9.7mm and 404g (assuming its 12.1-inch WXGA screen were converted to 10.1 inches) |
Sale Schedule
Product
Model
Sample Shipment
10.1-inch WXGA
TFT-LCD Module
AA101TA12
October 1, 2017