News Release Archives
Note that the releases are accurate at the time of publication but may be subject to change without notice.
FOR IMMEDIATE RELEASE No. 3132
Mitsubishi Electric to Launch Ka-band GaN-HEMT MMIC for Satellite Earth Stations
High output power and low distortion will help downsize satellite earth stations
TOKYO, October 4, 2017
-
Mitsubishi Electric Corporation
(TOKYO: 6503) announced today it will launch a Ka-band (26-40GHz) 8W gallium nitride (GaN) high-electron mobility transistor (HEMT) monolithic microwave integrated circuit (MMIC) amplifier for satellite earth stations. The new MGFG5H3001, which offers industry top-level low distortion and output power rating of 8W, boasts a small footprint that will help to downsize power transmitters. Mitsubishi Electric will begin shipping samples on November 1.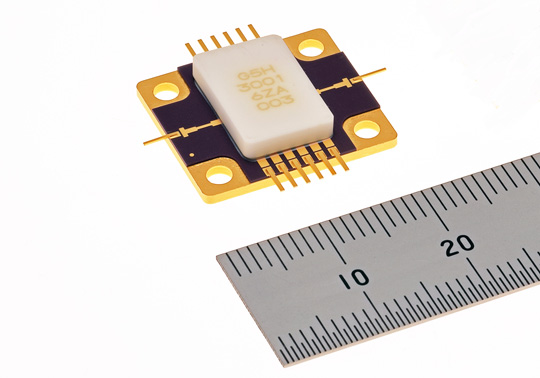 Ka-band GaN-HEMT MMIC (MGFG5H3001)
Satellite networks, which are used for high-speed communication during natural disasters and in areas where ground networks are difficult to construct, are currently implemented mainly in the C-band (4-8GHz) and Ku-band (12-18GHz), but higher frequencies are increasingly being used. Also, market demands for deployments in the higher-frequency Ka-band are increasing. Mitsubishi Electric's new Ka-band GaN-HEMT MMIC will help meet the growing demand for higher frequency deployments, as well as facilitate the development of satellite communications equipment capable of extra-high output power and efficiency.


Product Features
1)
Industry top-level output power contributes to miniaturization


| | |
| --- | --- |
| - | Optimized transistor configuration delivers industry top-level 8W output power |
| - | One chip integrates amplifier transistors circuits, matching circuits and distortion-reducing linearizer |
| - | Reduced number of parts will help to downsize satellite earth-station transmitters |

2)
Industry top-level distortion reduction for high signal integrity and miniaturization


| | |
| --- | --- |
| - | Built-in linearizer achieves low distortion for power transmitters |
| - | High signal integrity and reduced need for external linearizer for further miniaturization of satellite earth-station transmitters |

3)
Will facilitate new satellite earth-station equipment to meet wider needs


| | |
| --- | --- |
| - | Expected to lead to new Ka-band and existing Ku-band equipment for deployments in more diverse frequency ranges |
Sale Schedule
Product
Application
Model
Overview
Shipment
Frequency
Saturated
output
power
Linear
gain
Ka-band
GaN-HEMT
MMIC
Satellite earth
stations
MGFG5H3001
27.5-31.0GHz
39.0dBm
(8W)
15.0dB
Nov. 1, 2017