News Release Archives
Note that the releases are accurate at the time of publication but may be subject to change without notice.
FOR IMMEDIATE RELEASE No. 3140
Mitsubishi Electric Unveils the Largest Diamond Vision in the Asia Pacific Region at SOGO Hong Kong
Will become the largest Diamond VisionTM in the Asia Pacific Region, measuring approximately 19 meters by 72 meters, the screen will span a surface area of over five tennis courts
TOKYO, October 26, 2017
-
Mitsubishi Electric Corporation
(TOKYO: 6503) announced today that it has unveiled a Diamond Vision
TM
at SOGO Department Store in Hong Kong's iconic Causeway Bay that is expected to become Hong Kong's largest and finest-resolution LED screen. Measuring approximately 19 meters by 72 meters, equivalent to over five tennis courts, the screen is capable of displaying six vertical images in Full HD (W 1,080 pixels x H 1,920 pixels). Named "CVISION" for its crystal, color-rich, and captivating quality as well as its iconic location, it will begin officially operating on October 27.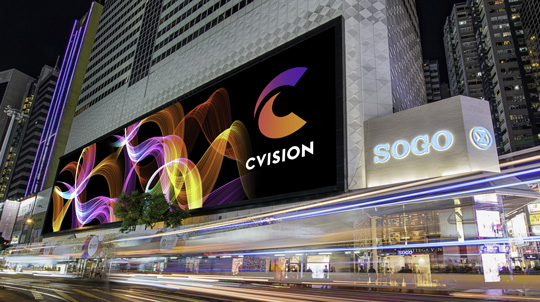 CVISION is destined to become one of Hong Kong's newest attractions and a prominent part of the city's nightscape, offering an unparalleled combination of high contrast and wide horizontal and vertical visibility.


CVISION incorporates Mitsubishi Electric's proprietary LED chips with black outer packages, which decrease brightness when off and increase contrast when on. In addition, short eave-like louvers minimize contrast degradation when sunlight strikes the screen, helping CVISION to achieve 50-percent higher contrast than the company's conventional screens. CVISION can be viewed easily from side angles or close up in the sunshine, and offers an 80-degree downward viewing angle compared to the standard 45 degrees.


Going forward, Mitsubishi Electric expects to expand its LED screen business in Hong Kong and Greater China by featuring CVISION prominently in the Diamond Vision lineup.


Mitsubishi Electric has installed Diamond Vision screens in more than 950 places worldwide, including some of the busiest commercial locations in the world such as ALTA VISION in Shinjuku, Tokyo and 1535 Broadway in Times Square, New York.


Product Specifications
| | |
| --- | --- |
| Product | Diamond VisionTM |
| Effective Display Size | 71.68m (w) x 19.2m (h) ; approx.1,376.3m2 |
| Display Type | Full color Outdoor LED Display (with full black packaged LED) |
| Pixel Configuration | 10.0mm pixel pitch; SMD 3in1 type |
| Total No. of Pixels | 13,762,560px ; 7,168 (w) x 1,920 (h) |
| Brightness (adjustment) | 6,000cd/m2 (64-step) |
| Pixel Density | 10,000px/m2 |
| Processing (grayscale) | 65,536 steps/color (16-bit) |
| Viewing Angle | ±80° horizontal, by +68° to -80° vertical(compared to standard +26° to -45°) |