News Release Archives
Note that the releases are accurate at the time of publication but may be subject to change without notice.
FOR IMMEDIATE RELEASE No. 3150
Mitsubishi Electric to Exhibit at EcoPro 2017
Green products and technologies for eco-friendly life
TOKYO, November 17, 2017
-
Mitsubishi Electric Corporation
(TOKYO: 6503) announced today that its group companies will exhibit green products and technologies at EcoPro 2017, one of the largest environmental exhibitions in Asia, which will take place at the Tokyo Big Sight exhibition complex on December 7-9.

The Mitsubishi Electric booth (No. 2-041, East Hall 2) will present a variety of green initiatives implemented by Mitsubishi Electric, organized under the theme
Mitsubishi Electric's Eco Changes: Eco-oriented Life Starting at Home
. Exhibits will center on cutting-edge technologies and products for applications ranging from consumer homes to outer space and will show how Mitsubishi Electric is contributing to eco-friendly life and increased sustainability in society, including through sustainable developing goals (SDGs).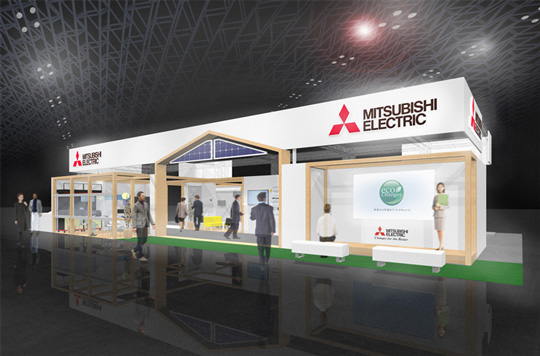 Rendition of Mitsubishi Electric booth
Zones and Main Exhibits
The booth will present diverse products and technologies, divided into three zones, to encourage visitors to think about working toward a better future together with Mitsubishi Electric.

Inside Home Zone
This zone will have two sub-themes: smart-house solutions and eco-friendly appliances. It will introduce how Mitsubishi Electric designs products and services for the environment and smart living, such as net zero energy consumption. Demonstrations will focus on energy savings and convenient functions in appliances such as air conditioners, refrigerators and water boilers, as well as advanced recycling technologies for used appliances.

Outside Home Zone
This zone will introduce how Mitsubishi Electric is leveraging cutting-edge technologies to help people improve their futures, such as mobile refrigerators that Indonesian fishermen are using to keep their daily catches fresher for improved quality of life in their small village. Other exhibits will cover technologies for supplying electricity to smart communities, electrical-powered water treatment and observation satellites.

CSR Zone
This zone will present Mitsubishi Electric's corporate social responsibility initiatives focused on the environment, such as the Satoyama Woodland Preservation Project and "outdoor classrooms" organized to foster environmental awareness by teaching communities about their local natural habitats.