FOR IMMEDIATE RELEASE No. 3210
TOKYO, September 12, 2018 - Mitsubishi Electric Corporation (TOKYO: 6503) announced today the launch of 7.0-inch WXGA and 15.0-inch XGA color TFT-LCD modules equipped with projected capacitive touch panels using cover glass of up to five millimeters in thickness. The new modules are designed for industrial application, including measurement system machine tools, construction, agricultural vehicles and factory automation, as well as gas station point-of-sale terminals. Sample sales will begin on October 31 via Mitsubishi Electric offices worldwide.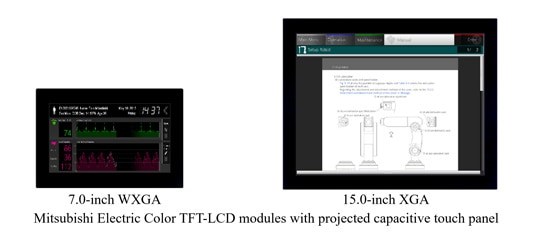 The new modules will meet the increasing industrial demand for thicker and sturdier cover glass supporting operation by those wearing gloves. Accurate, multi-touch sensing is possible even when the screens are wet. Combining these cutting-edge touch panel capabilities with Mitsubishi Electric's proven TFT-LCD technology, the new models are built to handle a diverse range of applications and installation configurations.
Product Features
1)

Projected capacitive touch panels offering superior operability

Thick, five-millimeter cover glass withstanding rugged usage
Ten-point touch operation allowing accurate sensing
High-level operability, even when using gloves or when screens are wet

2)

Total touch-panel solution

One-stop solution for TFT-LCD, touch panel and touch-control board
Optional optical bonding* providing clearer images in bright light
Tempered cover glass and anti-reflection/anti-smudge surface treatment allowing a wide-range of uses
Factory-installed TFT-LCD, PCAP touch panel, cover glass and touch controller offering superior reliability

* Resin bonding of the TFT-LCD module, touch-panel sensor and cover glass
Sample Sale Schedule
Product
Model
Display Size
Resolution
Brightness
(cd/m2)
Shipment
TFT-LCD
Modules with
Projected Capacitive
Touch Panels
AA070TA01ADA11
7.0-inch
WXGA
800
October 31, 2018
AA070TA11ADA11
AA150XT02DDE11
15.0-inch
XGA
600
November 30, 2018
AA150XT12DDE11
1200
AA150XW01DDE11
400
AA150XW14DDE11
800
---
---
Inquiry
Media contact
Customer Inquiries
---
Related articles
Sep 01, 2022

Jul 14, 2022

Apr 21, 2022