FOR IMMEDIATE RELEASE No. 3214
TOKYO, September 26, 2018 - Mitsubishi Electric Corporation (TOKYO: 6503) announced today it will launch a 12.3-inch Wide HD TFT-LCD module for industrial applications including medical equipment, machine tools and more. The new TFT-LCD offers an unprecedented combination of features, including an extra-wide screen, super-wide 176-degree horizontal/vertical viewing angles, high resolution Wide HD (1,920 x 720 dots), super-high brightness of 1,600cd/㎡, high contrast ratio of 1000:1, and versatile operating temperature range of -40 to 80 degrees Celsius. Sample sales will begin November 1 through Mitsubishi Electric offices worldwide.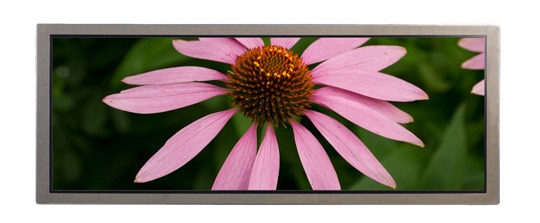 Mitsubishi Electric Color TFT-LCD Module (AA123AD11)
Mitsubishi Electric expects its new TFT-LCD to satisfy increasingly versatile application and installation requirements with its extra-wide screen and viewing angles, high resolution, extra-high brightness, high- contrast, and extra-diverse temperature resistance.
Mitsubishi Electric now offers 35 TFT-LCD modules with super-wide viewing angles.
Product Features
1)

Extended screen width accommodates extensive information

Wide screen with 8:3 aspect ratio can display extensive information through the use of multiple windows
Extra-wide display boasts an optimized mechanical design proven in tests to be as strong as existing Mitsubishi AA models (released prior to July 2018)

2)

Super-wide viewing angles, high resolution, super-high brightness and high contrast ratio

Super-wide 176-degrees viewing angles, both horizontal and vertical, ensure excellent visibility across a wide range of installations
High-resolution 1,920 (H) x 720 (V) Wide HD screen capably handles rich information
Super-high brightness of 1,600cd/㎡ and high contrast ratio of 1000:1 offer excellent visibility in bright environments and dimming from 1% to 100% assures easy visibility in any ambient light

3)

Market-leading operating temperature range for outdoor use

Unmatched operating temperature range from -40 to 80 degrees Celsius withstands extreme outdoor environments to meet the demands of customers around the world
Sale Schedule
| | | |
| --- | --- | --- |
| Product | Model | Shipment date |
| 12.3-inch Wide HD TFT-LCD Module | AA123AD11 | November 1, 2018 |
---
---
Inquiry
Media contact
Customer Inquiries
---
Related articles