FOR IMMEDIATE RELEASE No. 3228
TOKYO, November 20, 2018 - Mitsubishi Electric Corporation (TOKYO: 6503) announced today that it has delivered what is believed to be Taiwan's first elevators with destination-assist capability─Mitsubishi Electric's Destination Oriented Allocation System (DOAS)─capable of integration with the access control system of buildings. In total, Mitsubishi Electric delivered 27 elevators, including 12 double-deck models with DOAS, and 45 escalators.The delivery was made to the Taipei Nan Shan Plaza, a super-high-rise complex in central Taipei, Taiwan, which consists of three buildings: the Office Tower (272 meters high with 48 floors), the Retail Annex (7 floors) and the Cultural Entrance Annex (1 floor).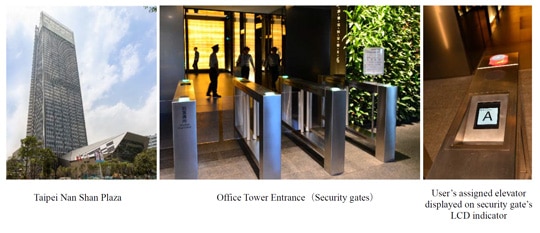 Main Features of Double-deck Elevators with DOAS
Taiwan's first elevators with DOAS integrated with building's access control system

As elevator users pass through security gates for authentication, their destination floors are registered and the destinations are grouped by elevator for efficiency
Users do not need to press destination buttons outside/inside of elevators, so operation of multiple elevators is optimized for enhanced transportation efficiency and user convenience
About Products Delivered
Products
Elevator: 27 units (including 12 double-deck elevators)
Escalator: 45 units
Manufacturers
Mitsubishi Electric Corporation (Inazawa Works)
Taiwan Mitsubishi Elevator Co., Ltd.
Shanghai Mitsubishi Elevator Co., Ltd.
---
---
Inquiry
Media contact
Customer Inquiries
---
Related articles
Jul 29, 2022

Apr 07, 2022