FOR IMMEDIATE RELEASE No. 3361
TOKYO, June 16, 2020 - Mitsubishi Electric Corporation (TOKYO: 6503) announced today the launch of its N-series 1200V SiC-MOSFET (silicon-carbide metal-oxide-semiconductor field-effect transistor) featuring low power loss and high tolerance1 to self-turn-on. The new series will help to reduce the power consumption and miniaturize power supply systems requiring high-voltage conversion, such as electric vehicle (EV) on-board chargers, photovoltaic power systems and more. Sample shipments will start this July.
Mitsubishi Electric will exhibit its new N-series 1200V SiC-MOSFET at major trade shows, including PCIM Asia 2020 in Shanghai, China from November 16 to 18.
1

Input capacitance/mirror capacitance (Ciss/Crss), as calculated by Mitsubishi Electric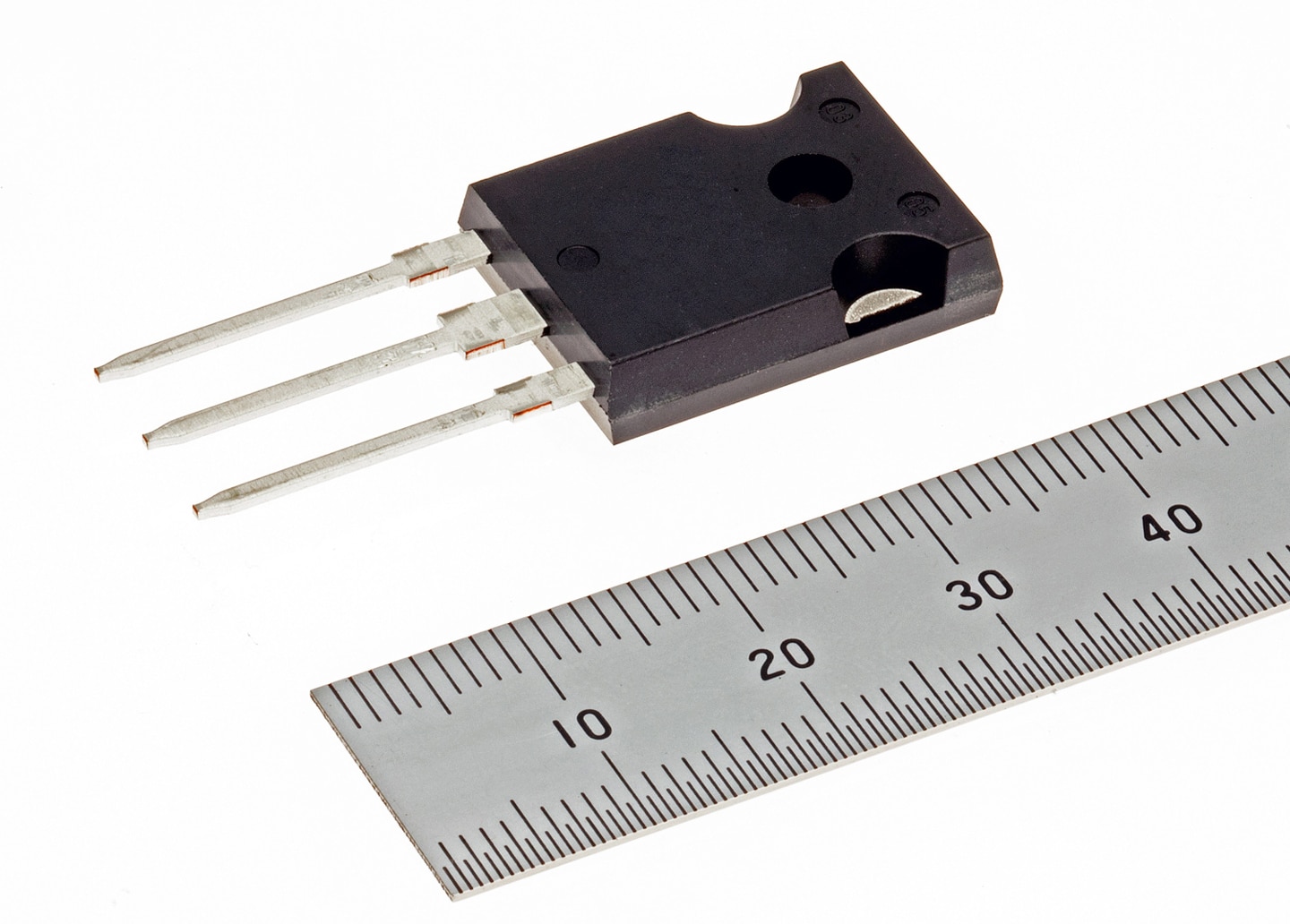 N-series 1200V SiC-MOSFET
Product Features
1)

Reduced power consumption and miniaturization of power-supply systems

Junction field effect transistor (JFET) doping technology reduces both switching loss and on-resistance, achieving an industry-leading2 figure of merit (FOM3) of 1,450mΩ·nC. Power consumption in power-supply systems is reduced by approximately 85% compared to using conventional Si-IGBTs.
By reducing mirror capacitance4, self-turn-on tolerance improves by 14 times compared with competitor's products. Thus, fast switching operation can be realized and helps reduce switching loss.
Reduced switching-power loss enables the downsizing and simplification of cooling systems as well as the downsizing of peripheral components, such as reactor by driving the power semiconductor with a higher carrier frequency5, thereby helping to reduce the cost and size of overall power-supply systems.

2

As of June 16, 2020 according to Mitsubishi Electric research

3

Performance index of Power MOSFET, calculated by multiplying the on-resistance by the gate-drain charge (100°C junction temperature). Smaller values indicate better performance

4

Stray capacitance between Gate and Drain existing in MOSFET structure (Crss)

5

Frequency that determines the ON/OFF timing of the switching element in an inverter circuit

2)

Six models for various applications including AEC-Q101 compliant models

The product lineup includes models which are qualified with Automotive Electronics Council's AEC-Q101 standards. Therefore, the N-series SiC-MOSFET can be used not only in industrial applications such as photovoltaic systems, it can also be used in EV on-board chargers.
Sales Schedule
Product
Standards
Model
VDS
RDS(on)_typ.
IDmax@25°C
Package
Sample
availability
SiC-MOSFET
AEC-Q101
BM080N120SJ
1200V
80mΩ
38A
TO-247-3
July 2020
BM040N120SJ
40mΩ
68A
BM022N120SJ
22mΩ
102A
—
BM080N120S
80mΩ
38A
BM040N120S
40mΩ
68A
BM022N120S
22mΩ
102A
---
---
Inquiry
Media contact
Customer Inquiries
---
Related articles
Sep 14, 2023

Aug 29, 2023