Environmental News

Research & Development
FOR IMMEDIATE RELEASE No. 3500
TOKYO, March 16, 2022 - Mitsubishi Electric Corporation (TOKYO: 6503) announced today that it has developed an artificial intelligence (AI) technology that accurately forecasts demand for repair parts. Leveraging the company's Maisart®* AI, the technology is expected to help avoid over/under-supply of parts needed to service appliances and other equipment and thereby strengthen inventory management and parts availability as well as improve service quality.
*

M

itsubishi Electric's

AI

creates the

S

tate-of-the-

ART

in technology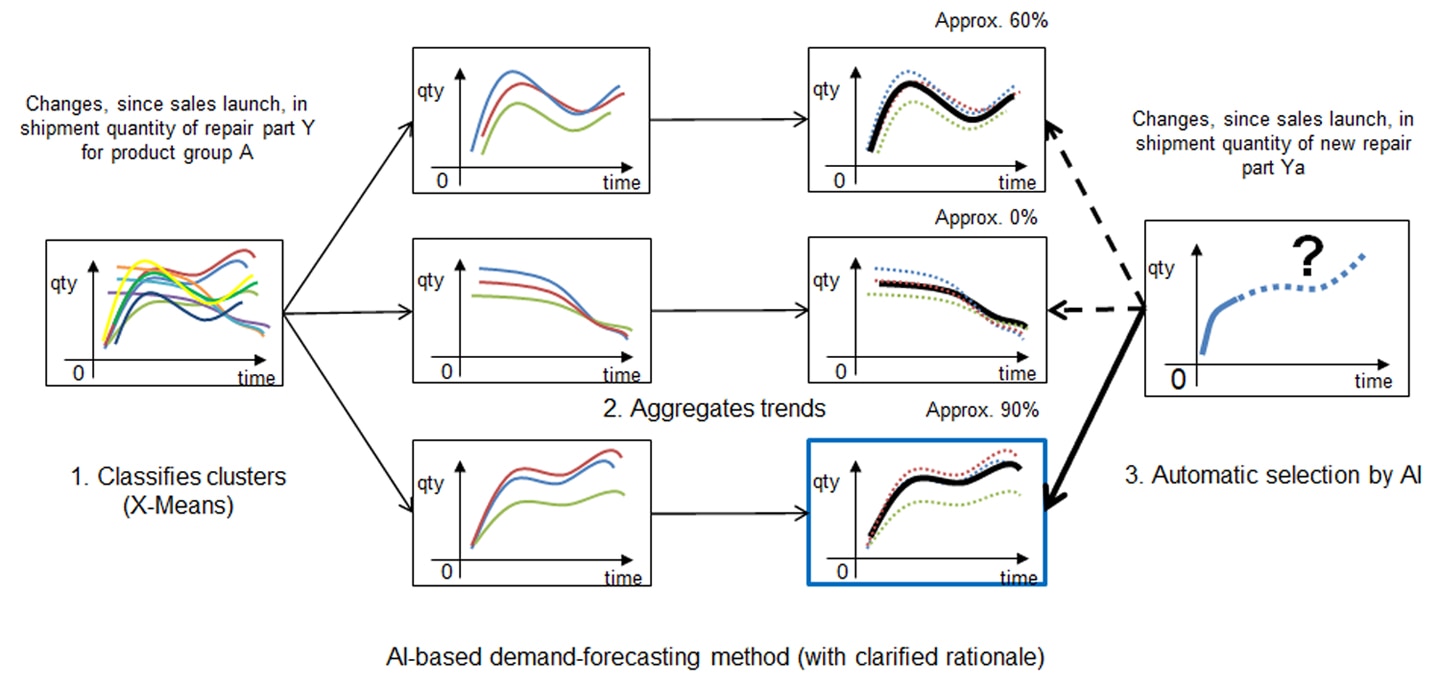 Product Features
1)

More accurate demand forecasting

By incorporating Maisart AI, demand forecasts for individual parts have been improved on average by 25.6% compared to the company's existing production-sales-inventory (PSI) planning and management solution, which is based on factors such as seasonally adjusted 12-month shipment-volume averages. Mitsubishi Electric's new method uses AI learning data on characteristic demand trends for each type of part, such as air filters and controller boards. To forecast demands, the technology clusters trend components, then matches clustered trends to specific repair parts, and finally adjusts the results for seasonal factors.

2)

AI optimizes number of clusters

The AI optimizes the number of clusters and classifies characteristics into a maximum 20 patterns using the X-Means method and actual shipment volumes. Clustering normally is performed manually by an analyst, but the X-Means method automates the process with a machine-learning algorithm that classifies data by trends. The optimization process is a challenge since forecast accuracy varies depending on the number of clusters, so Mitsubishi Electric adopted the X-Means method, and incorporated existing know-how, to automate optimization.

3)

Also assists wider decision making

The AI also provides information that field forecasters can use to make decisions about shipments of other parts. Conventionally, results produced by AI have been difficult to translate into decisions because evidence used to produce the AI results tended to lack transparency (black box). Mitsubishi Electric's new method, however, indicates the rationale behind its results, allowing forecasters to use the information with confidence.
Future Development
The system will be introduced in the PSI management of repair parts for Mitsubishi Electric electrical appliances and other housing equipment from the new fiscal year beginning on April 1. Expanded use in other businesses will follow. Meanwhile, global weather data will be incorporated in the AI to assess weather-related trends and thereby further improve forecasting accuracy.
---
---
Inquiry
Media contact
---
Related articles
Apr 07, 2023

Feb 10, 2022

Dec 10, 2021
May 31, 2023

Apr 18, 2023

Mar 29, 2023