FOR IMMEDIATE RELEASE No. 3546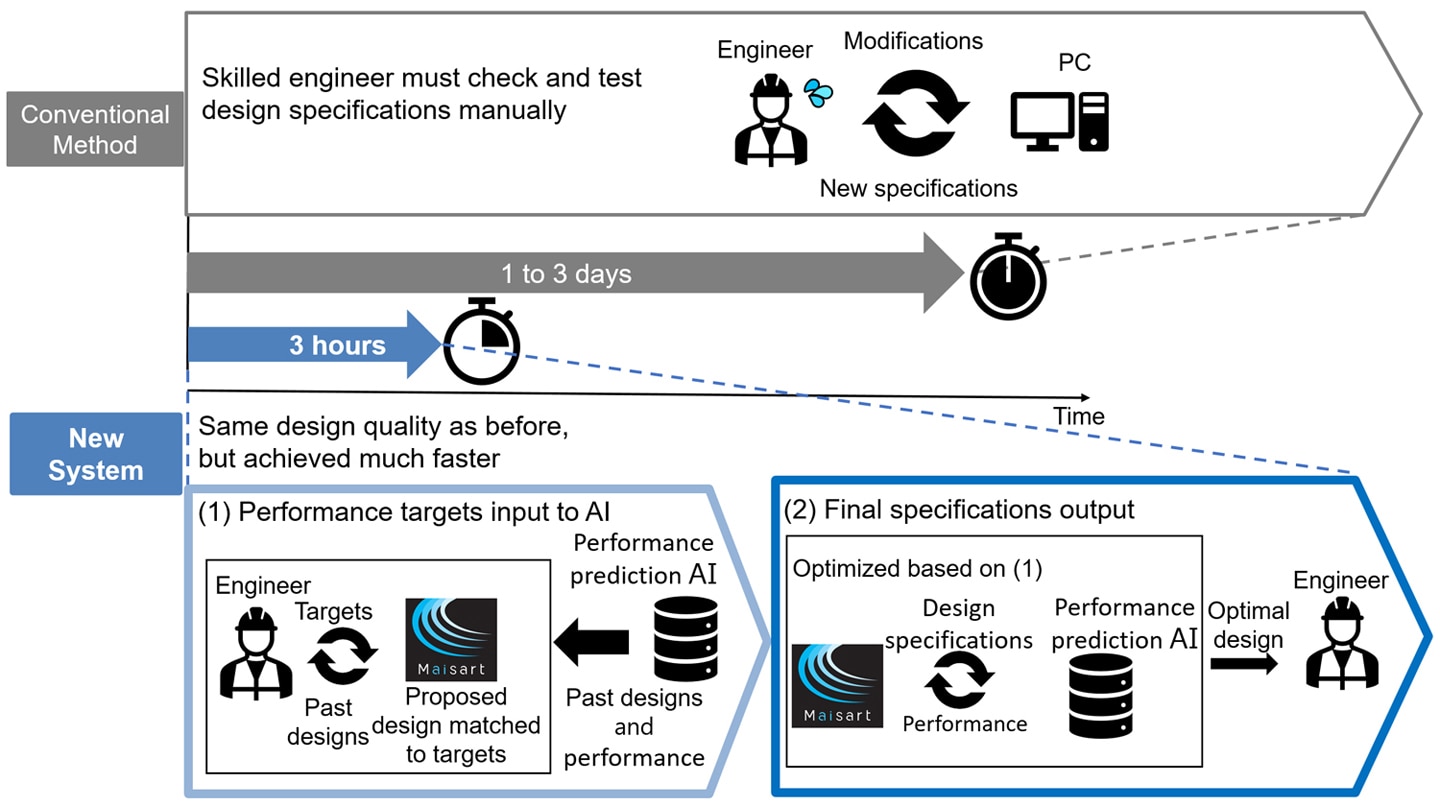 New industrial motor design support system incorporating AI
TOKYO, September 21, 2022 - Mitsubishi Electric Corporation (TOKYO: 6503) announced today that together with Toshiba Mitsubishi-Electric Industrial Systems Corporation (TMEIC) they have developed a electrical motor-design support system incorporating Mitsubishi Electric's Maisart®* AI technology to dramatically shorten the time required to produce electrical motor designs that achieve the same performance as conventional design methods deployed manually by skilled engineers. TMEIC plans to adopt the system for internal operations in FY 2024.
The new system can be used to design electrical motors for pumps, compressors and fans application in industries. When designing such motors, design engineers conventionally must repeatedly adjust design specifications to balance performance versus design, such as power efficiency versus motor size. For engineers with limited experience, it can be especially challenging to balance specifications to satisfy all requirements, often requiring them to implement time-consuming trial-and-error testing, which later must be checked by skilled engineers.
Using the new system experimentally to perform design tasks that had already been completed in the past by engineers, Mitsubishi Electric confirmed that design time can be reduced to a mere three hours compared to one day for experienced engineers and up to three days for less experienced engineers (assuming one day equals eight work hours). The system also helps to simplify and standardize design processes, since performance targets can be simply adjusted to have the AI generate appropriate new specifications. In addition, the system is expected to support the transfer of designing skills to less experienced engineers and help them to become more proficient.
The new system will be presented during a meeting of the Institute of Electrical Engineers of Japan at the Higashi Osaka campus of Kindai University as well as online on September 29-30.
---
*

M

itsubishi Electric's

AI

creates the

S

tate-of-the-

ART

in technology
---
---
Inquiry
Media contact
Customer Inquiries
---
Related articles
Sep 07, 2023

Jun 20, 2023

Jun 08, 2023