Plastic recycling comes of age
Defining a Recycling-Based Society
The Challenges of Plastic Recycling
Metals from used or end-of-lifecycle products have long been recovered for industrial reuse to some extent. Unlike metals, however, plastic recycling requires a much higher degree of costly manual processing, and even then the quality of most of the resulting materials is suitable only for new non-durable everyday items, toys, trinkets, and landfills.
The reason is because of the purity of the plastic recovered. Modern home appliances are composed of a variety of plastics that, when recovered, must be completely separated from each other one by one. The separated plastics also include plastics of varied levels of deterioration due to many years of existence.
Many recyclers simply extract the metals and grind all of the plastics together into chips, then hand them over to external specialists. Mitsubishi Electric, however, set out to become the number one specialist in the field. Persistent research and development into new types of automated plastic separation and processing technologies and equipment have paid off in breakthrough proprietary systems that have ushered in the age of large-scale recycling of high-purity plastic.
Mitsubishi Electric is literally defining the age of sustainable recycling in Japan, defying conventional wisdom, and demonstrating that a recycling-based society is an obtainable goal. While building on its expertise in plastic recycling, the company will also continue seeking new methods for more efficient recovery of rare metals, in order to realize its ultimate goal of complete recycling of all materials from old products.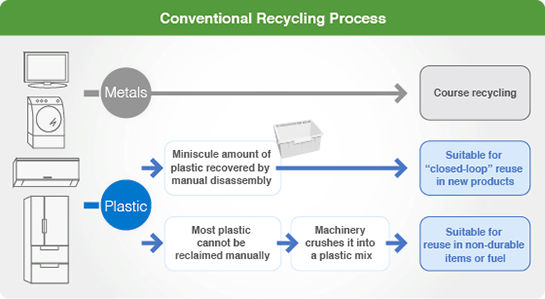 Creating an Industrial-Grade Recycled Materials Business
Soon after Mitsubishi Electric established Hyper Cycle Systems just over a decade ago, management became convinced that the key to transforming Japan into a sustainable, recycling-based society would be the practical—and therefore profitable—recovery of high-purity plastics that can be reused in the manufacture of new products capable of meeting the standards of durability and safety consumers demand.
From an industrial perspective, Mitsubishi Electric perceives a recycling-based society as one where recycled materials are a manufacturing company's veins, which flow into its arteries of new products. This view calls for a completely new type of "sustainable recycling" industry, one where materials reclaimed from old products are processed into new, industrial-grade "raw materials."
This new field specializes in extracting the maximum amount of marketable materials. It also provides further benefits to society by offsetting the enormous consumption of petroleum and other resources, as well as negative environmental impact, of mass manufacturing new products from completely new materials.
The 80% Tipping Point
Mitsubishi Electric's mission to make plastic recycling practical and profitable called for fresh ideas and unprecedented technology-based solutions. From the outset, Hyper Cycle Systems was a working laboratory at which engineers and technicians across a variety of Mitsubishi Electric Group concerns convened to collaborate, experiment and tinker, and prove concepts through trial and error.
While developing technologies and establishing the best practices for recovering as many materials from old products as possible, and with highest levels of purity, they placed extreme emphasis on rapid development of machinery and techniques designed to defy the existing limitations preventing more than a miniscule 6% plastic-recovery rate.
Proprietary technologies for separating different plastics by specific gravity and by electrostatic properties succeeded in recovery of the three main types of plastic used in home appliances—polypropylene (PP), polystyrene (PS) and acrylonitrile-butadiene-styrene (ABS)—at purity levels exceeding 99%.
Experimental industrial processes to improve efficiency and profitability, combined with chemical engineering to reinforce the durability of recovered plastics, demonstrated impressive increases in the recycling rate along the way, until ultimately a 80% rate of recovery of industrial-grade plastics created a tipping point.
It set the stage for the opening of Green Cycle Systems in 2010, Japan's first large-scale high-purity plastic recycling concern, which represents a major step forward in Mitsubishi Electric's goal to establish a completely new, sustainable recycling industry.
Sustainability at Work
The collective workforce of Hyper Cycle Systems and Green Cycle Systems forms the living embodiment of Mitsubishi Electric's original guiding principle to create a workplace that everyone would be proud of. Everyone includes the local communities in which the company's recycling centers operate.
An open corporate culture encourages visitors to observe "sustainable recycling" first-hand. They note the clean and comfortable work environment made possible by advanced Mitsubishi Electric building systems technology that keeps air quality safe. They inquire about the high-tech machinery and automated processes that Mitsubishi Electric's factory automation technologies bring to bear.
In addition, they learn that great successes are possible when like minds collaborate to shatter preconceived notions. Most of all, they take pride in knowing that a recycling-based society is one with new opportunities for the next generation of architects of a sustainable tomorrow.