Plastic recycling comes of age
Hyper Cycle Systems: Reclaiming Resources from End-of-Lifecycle Products
Genesis of a Sustainable Recycling Industry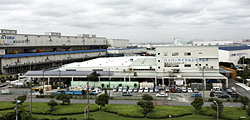 Hyper Cycle Systems Corporation
Hyper Cycle Systems Corporation, which began operations in April, 1999 to comply with the enactment of Japan's Home Appliance Recycling Law, is the foundry of a new, sustainable recycling industry, crafting the production technologies and systems for producing pure, industrial-grade materials from the metal and plastic materials reclaimed from old electrical appliances.
Plastic taken from end-of-lifecycle products by manual labor consists of about 6 % of all recycled plastics Hyper Cycle Systems deals with annually. The remainder includes metal and plastic fragments. Green Cycle Systems uses automated processes to separate the metals from so-called plastic excess.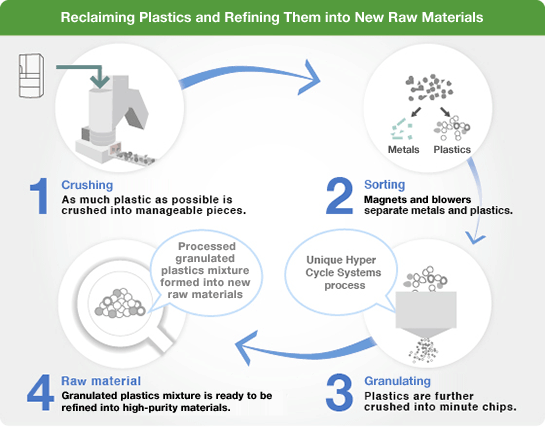 Supporting the Next Generation of Eco-Product Designers
Each year, Mitsubishi Electric organizes a program consisting of educational seminars at Hyper Cycle Systems whereby the present and future designers of electrical products can learn first-hand the issues related to designing for a sustainable future.
They spend time at the actual product disassembly and other production lines for hands-on experience, and attend seminars structured to instill in them the concept of "environment-compatible planning." The future of both recycling and better new-product manufacturing is literally in their hands.