Mitsubishi Electric Thailand Foundation
Social Welfare

Science and Technology
Mitsubishi Electric Thai Foundation
Founded in 1991, the Mitsubishi Electric Thai Foundation (METF) supports the education of tomorrow's engineers by providing scholarships to engineering students at Thai universities. METF also provides special grants to grade schools recommended by the Thai Ministry of Education to support their lunch program. In recent years, METF is enhancing its effort by also organizing employee-driven volunteer activities at local grade schools.
Receiving a prestige award from Ministry of Education
The METF's continuous effort to support Lunch Support Program was recognized by Office of the Basic Education Commission, Ministry of Education on September 25, 2014.
Science and Technology
Scholarship program
The METF launched a scholarship program in 1993 to promote science and technology development in Thailand. Every year, 60 students in four engineering universities in Thailand are selected to receive the scholarship. Recipients are students who excel in academics but are not able to receive sufficient financial resources from their family to devote themselves to their studies.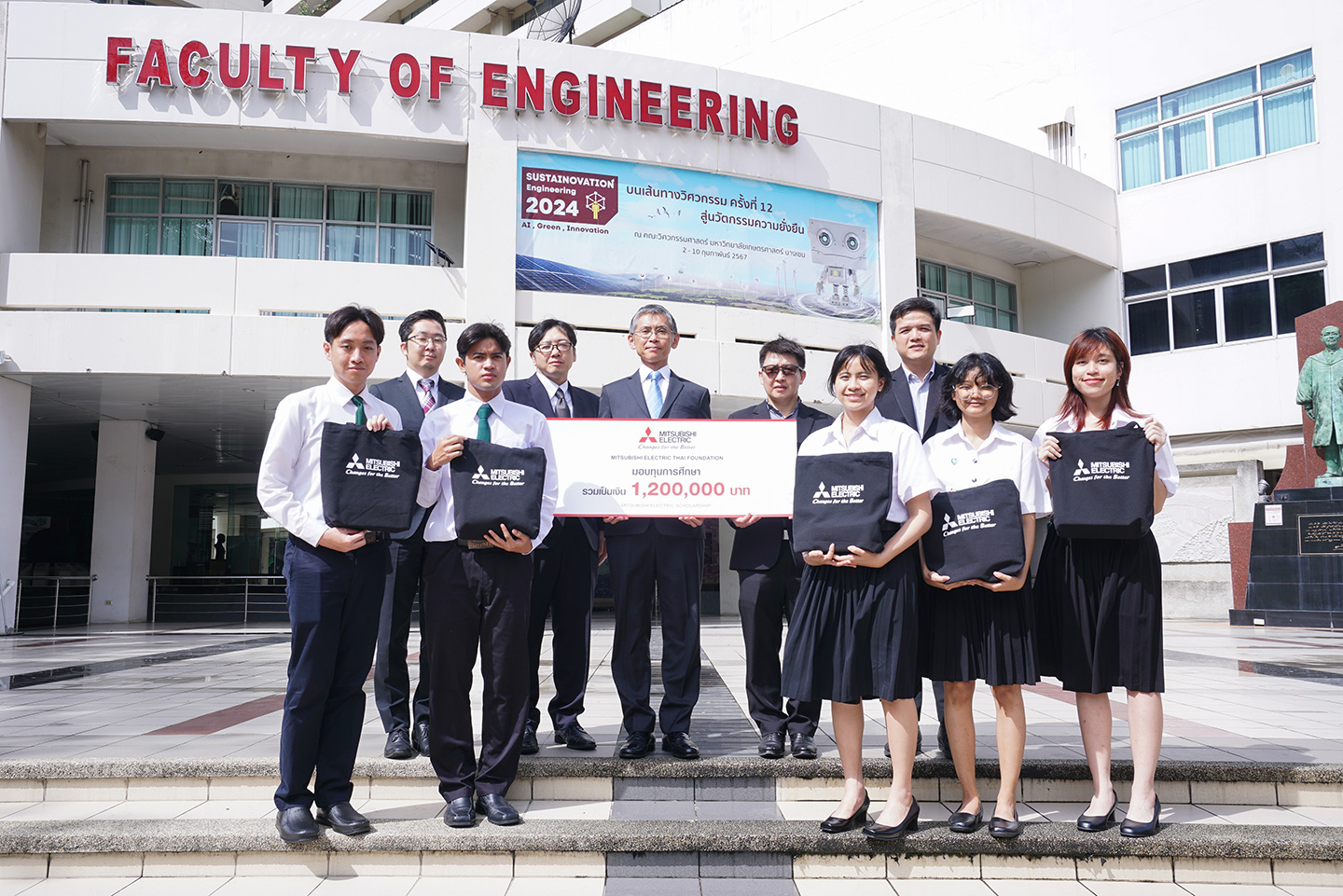 Social Welfare
Support program for grade school lunches
Since 1999, the METF annually has granted Lunch Support Fund to elementary schools recommended by the Thai Ministry of Education a sum of money to buy feed and fertilizer with which to grow crops and cultivate livestock. These provisions are then used to provide nourishing lunches to schoolchildren in need. At the same time, the program teaches children about the importance and joys of growing and raising food.

The METF received a prestige award for its continuous support to Lunch Support Program from Office of the Basic Education Commission, Ministry of Education on September 25, 2014.
Collaboration with Thai employees
In collaboration with local Mitsubishi Electric Group companies in Thailand, METF contributes to local communities through tree-planting activities, science classrooms for elementary school students, community contribution activities, and making donations to a temple that cares for AIDS patients. As many as 500 employees and local residents participated at a time, and participants were able to share joy with many people through these activities. In 2017, the Foundation began supporting the Prateep Dek Thai Project to build a child development centers in underprivileged areas.

Science classroom for elementary school students

Implemented Recycle Waste Bank at school
Donation to Wat Phrabat Nampu, which cares for AIDS patients

Support for the Prateep Dek Thai project