Europe Middle East & Africa
Italy
In addition to our involvement with charities, we have become a strong supporter of the local events of the Special Olympics. Moreover, as a leading technology company we work closely together with the National Museum of Science and Technology "Leonardo da Vinci" in Milan, where we support their exhibitions as well as contributing to science-related public lectures.
Culture and Arts, Sports
University Sports Centre of Milan
For the 68th National University Championships, Mitsubishi Electric Europe B.V. Italian Branch confirmed once again its partnership with the University Sports Centre (CUS) of Milan. We supported this important sports event, which took place for the first time in the city of Milan, from May 16 to 25, 2014.
About 4,500 athletes who came from CUS branches throughout Italy competed in 23 sports. The games were held in 20 facilities located throughout the Municipality of Milan with over 170 student volunteers contributing to the organization of this great event.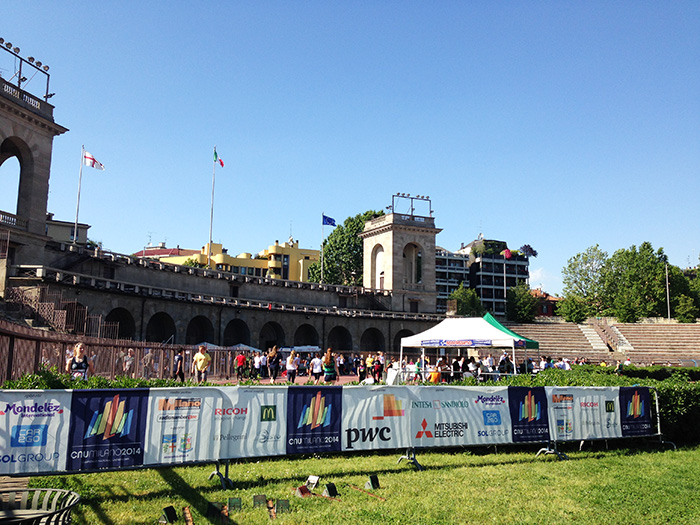 Science and Technology
Mitsubishi Electric Meets Students of the Polytechnic University of Milan
Since September 2013, Mitsubishi Electric Europe B.V. Italian Branch has been a partner of the Polytechnic University of Milan and has enjoyed joining a series of initiatives promoted by its career services.
A career-related program named "Design Your Future: the Industrial Sector" consists of three different events.
The first event was held in November 2013 and the second in May 2014. A Mitsubishi Electric representative explained various roles in the organization and the paths to reach specific professional positions. These events were a source of practical information for all the students and recent graduates, hopefully allowing them to make better choices regarding their careers while they are still students, and then once they start working.
During these events, which also involved other large companies, participants were able to ask questions directly to understand better the roles of new graduates, and what will be expected of them.
In March 2014, a third event took place: the usual "Career Day" at the University. Leading companies in the electric and electronics industry were there, including Mitsubishi Electric. Young students and graduates had a chance to speak directly with HR managers and submit work applications spontaneously.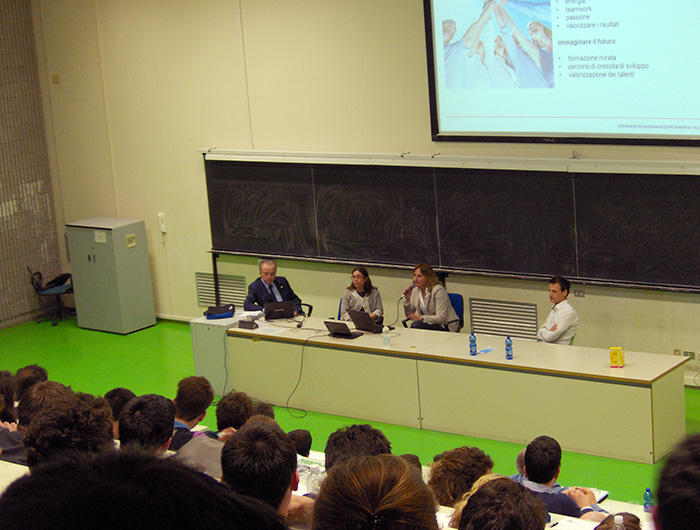 Science and Technology
Istituto Tecnico Industriale Statale G. Feltrinelli
A new collaboration established between the Istituto Tecnico Industriale Statale G. Feltrinelli of Milan and Mitsubishi Electric's Training Centre in Agrate Brianza aims to bridge the gap between studies and the world of work.
The project is targeted primarily at thermotechnics students in their fourth and fifth years of high school, with a technical training path dedicated to technological, applicative, and regulatory innovations and the outlook and opportunities of the air-conditioning sector.
The course is structured in three days of training for each class, and a total of about 120 students are involved. In March and April 2014, lessons took place in the classrooms and laboratories of the Air Conditioning Training Centre. This is located in Agrate Brianza next to the company's headquarters in order to allow students to experience and solidify what they have learned in theory through practical exercises on machines in operation.
The first day included a thorough analysis of the running of a refrigerating circuit from both a theoretical and a practical point of view. The second day involved the study of plant engineering applications and technologies which characterize contemporary air conditioning. On the last day, students experienced full immersion in the heart of Mitsubishi Electric technologies, and in particular of technology solutions for space heating and heat recovery with a focus on ecological and economic sustainability.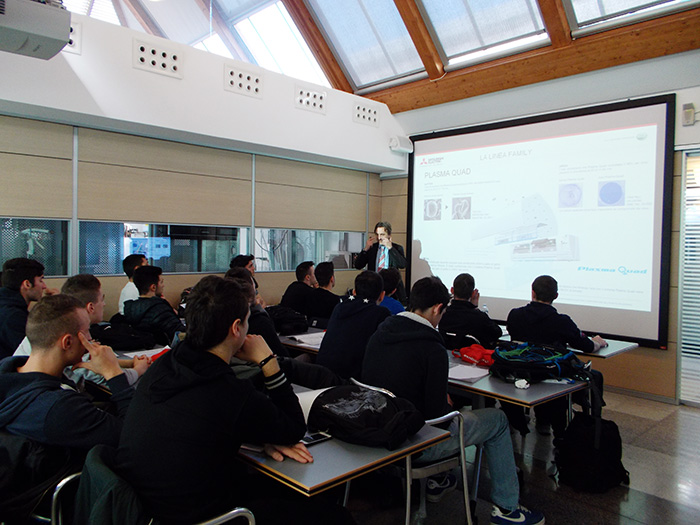 Culture and Arts, Sports
Supporting the Italian National Trust as Golden Donors
The mission of the Italian National Trust (or "Fondo Ambiente Italiano" in Italian) is to promote respect for and preserve Italy's rich heritage, including its nature, art, history, and traditions. This non-profit national foundation was established in 1975 and has saved and restored important artistic and natural sites and reopened them to the public.
The Italian Branch of Mitsubishi Electric Europe B.V. has supported this Trust as "Golden Donors" for many years.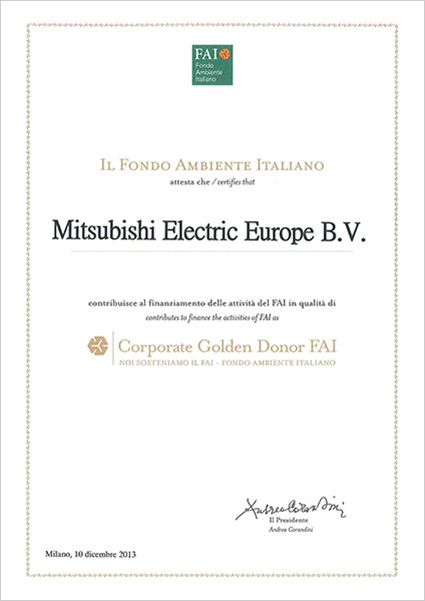 Social Welfare
Support of the PUPI Foundation

The Italian Branch of Mitsubishi Electric Europe B.V. supports the PUPI (Por Un Piberio Integrado, meaning "for an integrated childhood" in Spanish) Foundation, which was created in 2001 by Javier Zanetti, a famous Argentinian soccer player, and his wife Paula with the aim of offering concrete help to one of the poorest areas in Argentina.
With the support of the Italian Branch, the Foundation contributes to numerous projects in Argentina every year. The Foundation provides desperately needed care and education to financially and socially disadvantaged children.
Over the course of 12 years, the Foundation has carried out several initiatives involving over 1,000 people, including children, teenagers, and parents.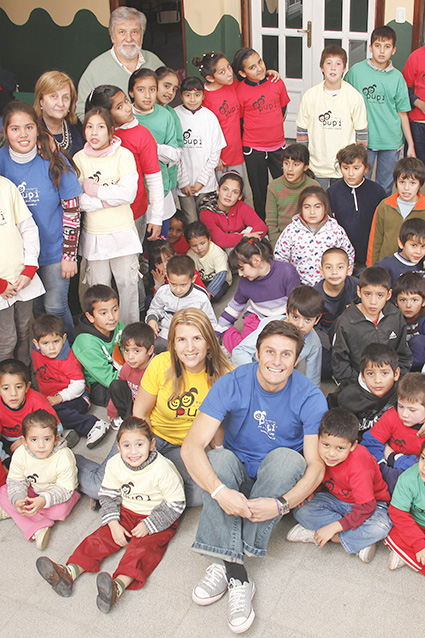 Science and Technology
Convention Alumni Polimi - Polytechnic University of Milan
Mitsubishi Electric Europe B.V. Italian Branch has been supporting the Alumni Community of the Polytechnic University of Milan since 2013.
The Alumni Community is an association of people who graduated with a degree, master's degree, or PhD from the Milan campus of the Polytechnic University of Milan from the 1960s onwards. To promote collaboration, Mitsubishi Electric became a supporter of the convention Alumni Polimi 2013, an annual event which perfectly suits one of our corporate principles: growth. This principle is at the basis of every company activity.
Alumni Polimi 2013 took place on October 26 at the Polytechnic University of Milan.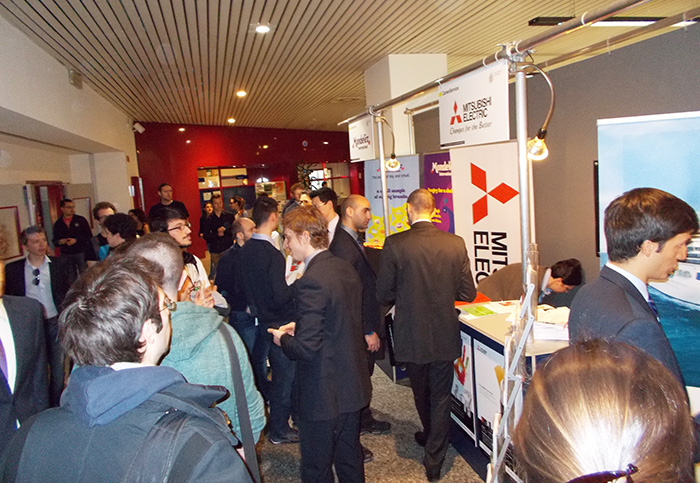 Science and Technology
ANIPLA - Italian National Association for Automation
Mitsubishi Electric Europe B.V. Italian Branch opens its doors to university students by joining a series of meetings promoted by ANIPLA (Italian National Association for Automation), with the aim of fostering partnership between companies in the field of factory automation (FA) and students of Faculties of Engineering who are interested in pursuing a professional path in this area.
During the meetings entitled "Automation: The Professional Figure of the Engineer," our company presents the professional path and career opportunities for young engineers in FA field, offering insight on the environment where these young people will work after finishing their studies.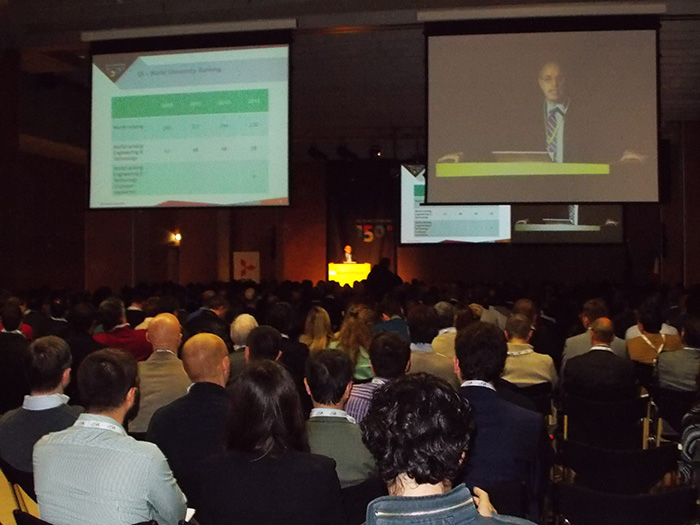 Culture and Arts, Sports
Support of the Special Olympics
Anywhere in the world and at all levels (local, national, and global), the Special Olympics is an organization which offers educational programs and organizes workouts and events for people with intellectual disabilities of any skill. Anyone can take part in sporting events and be rewarded according to international rules that are constantly tested and updated.
Mitsubishi Electric Europe B.V. Italian Branch, within its diversified program of corporate social responsibility activities, has been supporting Special Olympics Italy at the national level since 2012 and Interregional Tournaments at the local level for several years.
In 2013, Mitsubishi Electric Italian Branch sponsored European Football Week, the National Summer Games which were held in four locations (Arezzo, Cagliari, Lodi, and Viterbo), and European Basketball Week.
During the National Summer Games 2013, around 13,000 athletes divided into 280 teams competed in 12 official sports, with the support of 2000 volunteers. A group of 20 employees from Mitsubishi Electric Italian Branch and their relatives attended the event in Lodi to give concrete support. In particular, they took athletes to the stadiums, encouraged them, and helped them throughout every moment of the event to make it a memorable and enjoyable event for everyone participating. Find out more about the Special Olympics in Italy at:
www.specialolympics.it/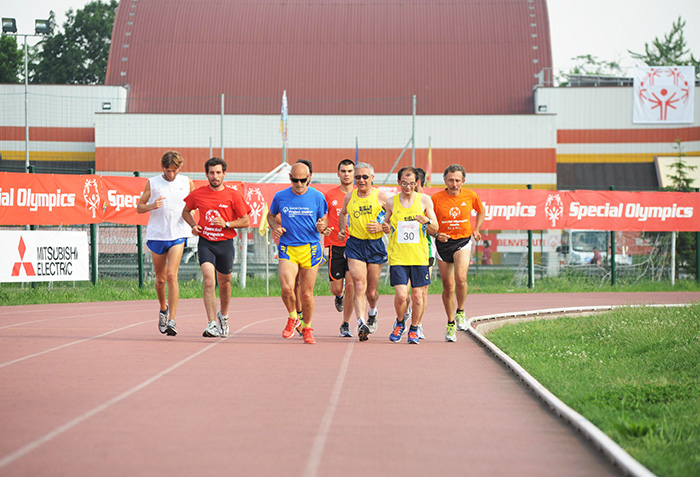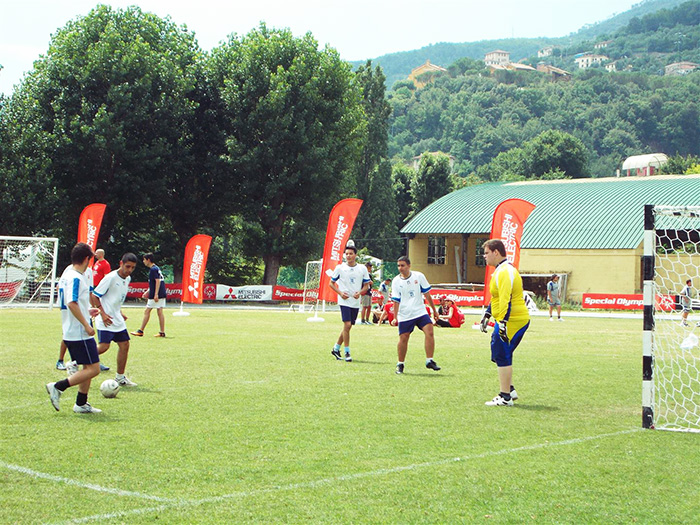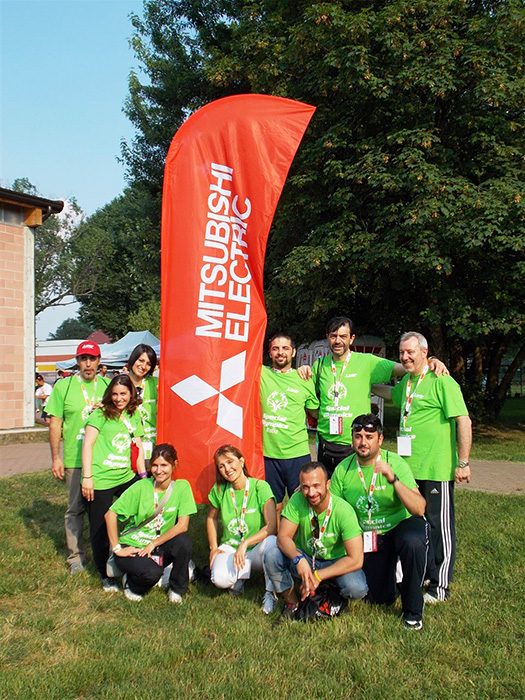 Culture and Arts, Sports
Supporting Local City Council's Free Sports Program in the City Park
From April to September 2012, Mitsubishi Electric Europe, B.V. (Italian Branch) has been a main supporter of "sport nel parco (Sport in the Park)"for the 3rd consecutive year. An initiative of the Council of Monza City and dedicated to citizens, the program comprises 6 months of sports activities offered free of charge and organised within one of the biggest green parks in Europe, the "Parco de Monza".
"Sport nel parco" includes 14 different categories of sport, and is promoted by the distribution of 25,000 maps, 2,000 leaflets and 800 posters throughout the city.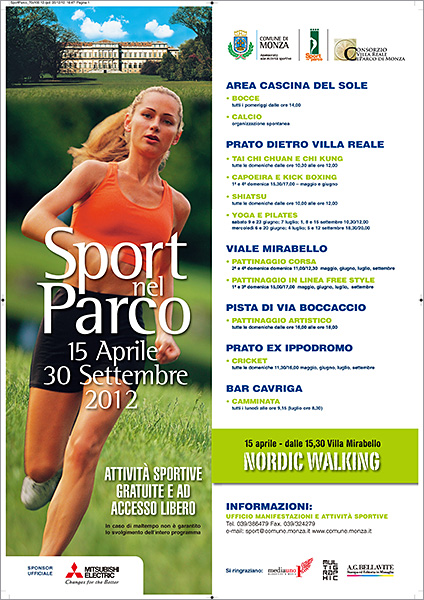 Social Welfare
Sponsoring a Non-profit Organization for Kids in Africa
The Italian Branch of Mitsubishi Electric Europe B.V. supports the Italian non-profit organization Alice for Children, which works with the international association Twins International to carry out charity projects in Africa.
The Italian Branch provides a yearly monetary donation to support a classroom. With the donation, a school can afford teachers, school materials, lunches, and medicines for one of its classrooms for an entire year.
For more information about Alice for Children, visit:

http://www.aliceforchildren.it/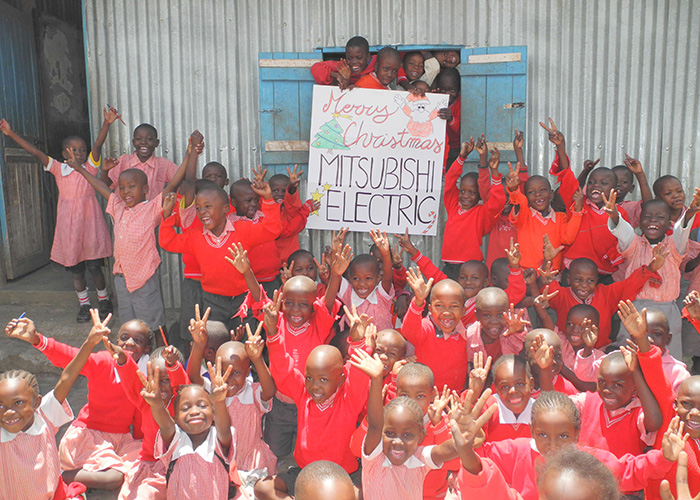 Social Welfare
Donation of Defibrillator and Support of Lifesaving Education
The Italian Branch of Mitsubishi Electric Europe B.V. supports raising awareness of cardiopulmonary resuscitation CPR, and of educating instructors and managers of sports clubs about how to use defibrillators as a life-saving maneuver. For this purpose, the Branch has worked with the non-profit organization Brianza for the Heart for five years, and it donated a defibrillator to local Leisure Centers and institutions in the community through the project "You Too Can Save a Life" in June 2012. Brianza for the Heart, which coordinates social and health initiatives to combat and prevent cardiovascular disease, organized the project in collaboration with Union Clubs Monzesi and the Office of the Provincial School.
The project aims to convey the importance of safety in schools and how the presence of a defibrillator can provide immediate assistance to those who suffer from cardiac arrest in a public place.
Science and Technology
Science & Technology Education
Mitsubishi Electric Europe, B.V. (Italian Branch) has become an official science and technology partner of the National Museum of Science and Technology "Leonardo da Vinci" in Milan. A long-term educational project is underway that is designed to motivate students of primary and secondary schools to take an interest in science and technology. In a permanent exhibit area at the museum dedicated to robotics which Mitsubishi Electric factory robots are integrated into special exhibits that include reproductions of technological ideas dreamed up more than 500 years ago by the great Leonardo da Vinci. Named Progetto EST (Education to Science and Technology), the project's goal is to be the biggest exhibit area in a European museum dedicated to robotics.