FR-E Series
Toward smart factory
Supporting various networks enable flexible system design.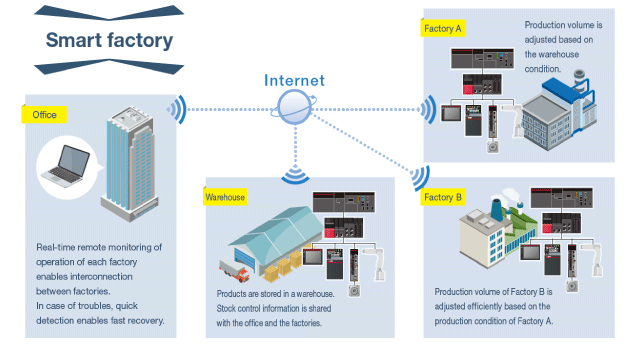 Less workload required for system construction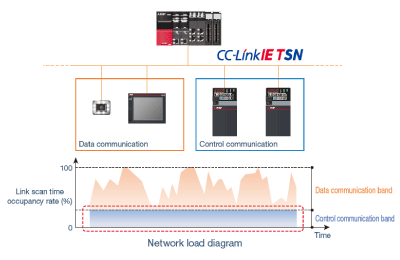 CC-Link IE TSN supported as standard
Deterministic performance of cyclic communication is maintained even when mixed with slower information data (non real-time). This enables TCP/IP communication devices to be used without affecting overall control.
Network device profiles are available to facilitate network construction.
Non-FA devices that support SLMP and TCP/IP communication can also connect to the network. Inverters can connect to a variety of devices, enabling use with versatile devices.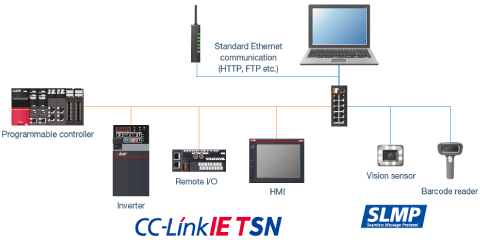 Compatibility with global networks


Inverter models that support protocols of major global industrial Ethernet networks are available.
FR-E800 inverters support a variety of open networks without using any options, enabling the use of inverters on the existing network and assuring compatibility with various systems. Users can select a protocol group suitable for the intended system. It is possible to switch between protocols only by setting parameters. (Supported protocols differ depending on the model.)
Supported protocols
Model
CC-Link IE TSN
(100Mbps)*1
CC-Link IE Field
Network Basic
MODBUS®/TCP
PROFINET
EtherNet/IP
BACnet/IP
EtherCAT
FR-E800[]EPA
●
●
●
─
●
●
─
FR-E800[]EPB
●
●
●
●
─
─
─
FR-E800[]EPC
─
─
─
─
─
─
●
*1
: 1 Gbps is optional (to be supported).
Supporting various topologies


Two Ethernet ports are provided as standard, enabling flexible connection in line topology without using a switching hub. (Ring topology will be supported later. For PROFINET, only line topology and star topology are supported.)
Complex networks can be created just by connecting devices with a cable to a free port. The network can even accommodate changes in the specifications of devices.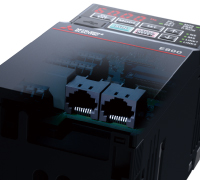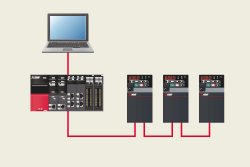 Line topology
The total wiring length can be minimized for large or extensive systems.
Eliminating a switching hub allows more flexible installation of inverters even in a narrow space.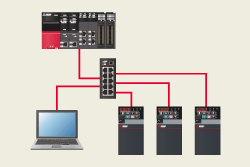 Star topology
A fault in one device does not affect other devices. Fast recovery is enabled when a fault occurs as it is easy to know which device is faulty.
Enabling construction of a small-scale synchronous system of inverters


Inverter-to-inverter link function
Communication between multiple inverters is carried out through the I/O device and special register transmission of
the PLC function
. A small-scale system can be created by connecting multiple inverters via Ethernet. (The FR-A800-E inverter or the FR-F800-E inverter can be mixed in the system.)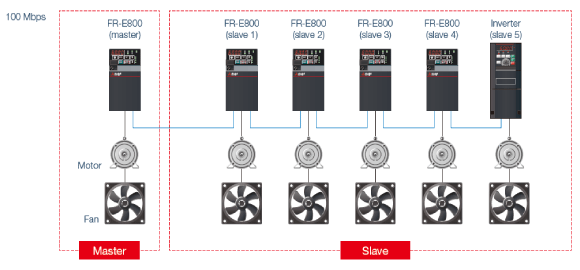 Simple configuration with less wiring using safety communication models


Safety communication model
Safety communication models support Ethernet-based safety communication protocols certified as compliant with international standards.
The safety control system on the existing network can be easily enhanced with less cost.
Model
CC-Link IE TSN
Safety communication
function
PROFIsafe
CIP Safety
FSoE
(Safety over EtherCAT)
FR-E800-[]SCEPA
●
─
●
─
FR-E800-[]SCEPB
●
●
─
─
FR-E800-[]SCEPC
─
─
─
◯
●:Supported ◯:To be supported soon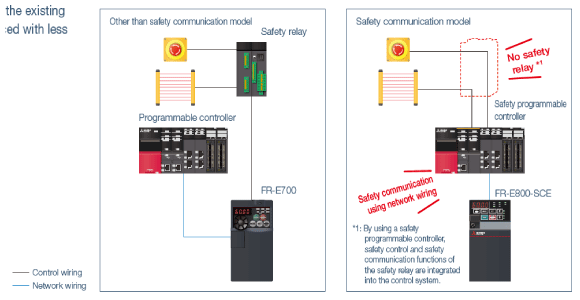 Security measures


IP filtering function (Ethernet)
Set the IP address range for connectable network devices to limit connectable devices.
The IP filtering function (Ethernet) is a means to prevent unwanted access from external devices, but it does not prevent it completely.
Ethernet command source selection
Devices which can control the inverter can be limited by setting the IP address range of the network device(s) used to operate it.
Ethernet function selection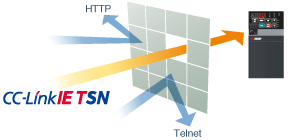 Communication sockets are created only for selected applications to prevent unwanted access.
A communication socket is the interface for sending and receiving data on a specific port.