concept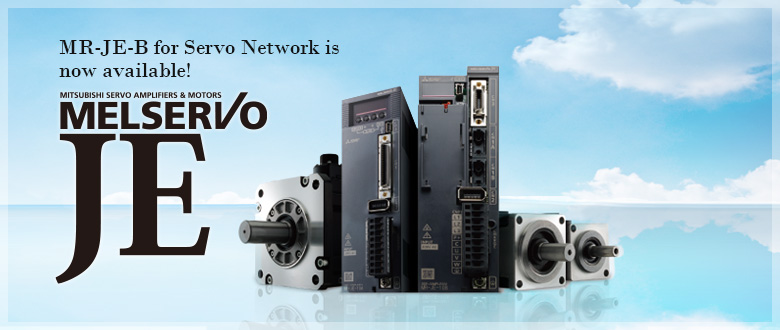 Advanced One-Touch Tuning
Servo gains are adjusted with one-touch ease without a personal computer.
Tolerance against Instantaneous Power Failure
The instantaneous power failure tough drive function and the large capacity capacitor reduce machine downtime.
Absolute Position Detection System
Absolute position detection system can be easily configured with MR-JE-B servo amplifier.
Built-in Positioning Function
MR-JE-A has a built-in positioning function, enabling positioning operation with point table method, etc. Equipped with advanced functions such as simple cam and mark detection.
SSCNETIII/H
MR-JE-B is compatible with 150 Mbps full duplex high-speed optical network SSCNETIII/H, achieving high-response system.
Fast and Accurate
The dedicated engine enables speed frequency response of 2.0 kHz, shortening the tact time.
High Resolution Encoder
The servo motor is equipped with 131072 pulses/rev (17-bit) high-resolution encoder, achieving high accuracy.
Energy Conservation
The large capacity main circuit capacitor allows the regenerative energy to be used effectively, reducing energy consumption.
Compliance to Global Standards
Global servo, MR-JE series, complies with global standards as standard.
Sink and Source Connections
Command pulse input and digital input/output are compatible with both sink and source type connections.
Global Support
FA Centers located throughout the world provide attentive services to support users.
Servo System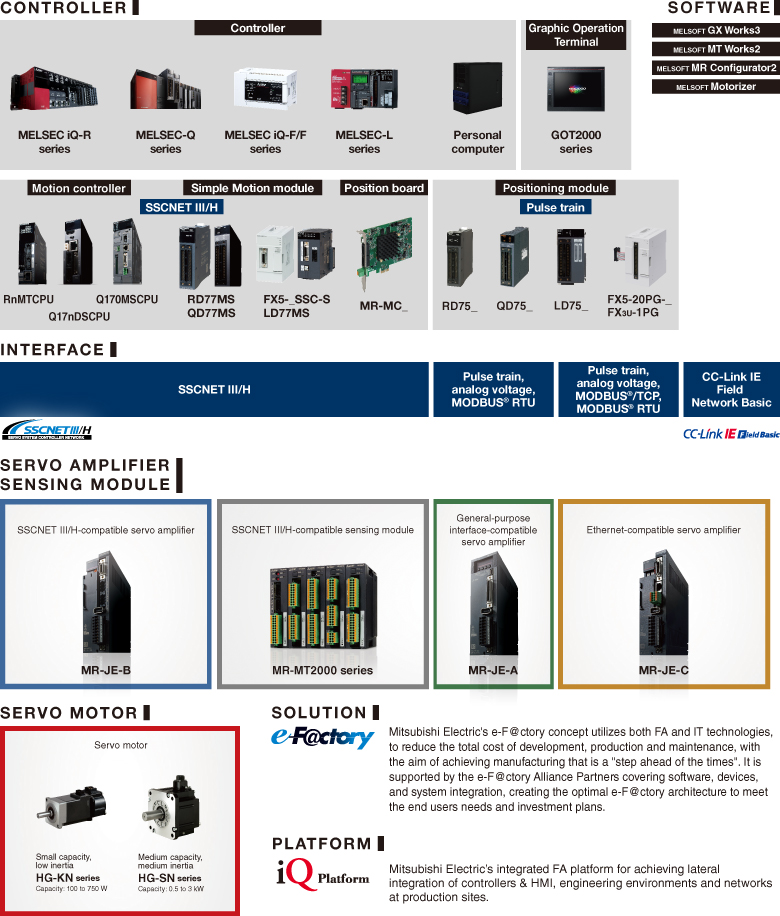 LINE UP
Servo amplifier
●:Compatible −:Not compatible
Model
Power supply
specification
Rated output [kW]
Command interface
Control mode
SSCNETIII/H
Pulse train
Analog
voltage
Position
Speed
Torque
Positioning
function
MR-JE-_B
3-phase 200 V AC
0.1, 0.2, 0.4, 0.6,
0.75, 1, 2, 3
●
−
−
●
●
●
−
MR-JE-_A
3-phase 200 V AC
0.1, 0.2, 0.4, 0.6,
0.75, 1, 2, 3
−
●
●
●
●
●
●
Servo motor
●:Available
Series
Rated speed
[r/min]
Maximum speed
[r/min]
Rated output
[kW]
With electro-
magnetic brake
(B)
Oil seal
(J)
IP rating*2
HG-KN series
3000
5000
0.1, 0.2, 0.4, 0.75
●
●
IP65
HG-SN series
2000
3000/2500*1
0.5, 1, 1.5, 2, 3
●
●
IP67
*1. The maximum speed of HG-SN302J is 2500 r/min. *2. The shaft-through portion is excluded.