Advanced model with multi-touch gesture functions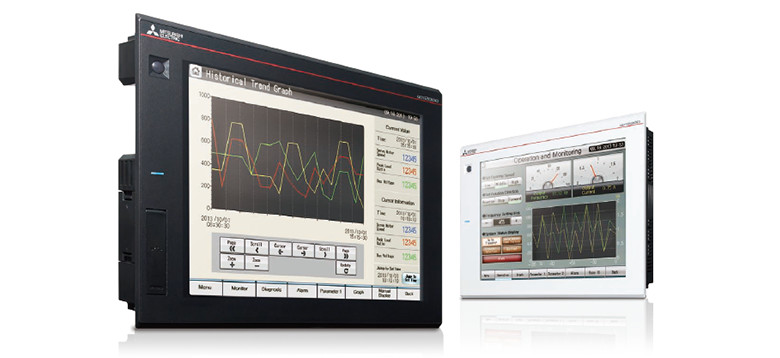 A wide variety of specifications suit every system design
Communication interfaces such as Ethernet, RS-232, RS-422/485, USB host/device and SD memory card are standard features. High capacity data processing ensure smooth screen operation even when multiple tasks, such as logging, script, alarm, or device data transfer, are running. In addition, image recording, image playback, video image input, and RGB output are available*, thus all the functions of GOT2000 can be used on GT27 models.
* Excluding GT2705
Item
Specifications
Display
5.7"/8.4"/10.4"/12.1"/15", TFT color LCD, 65536 colors
Resolution
XGA, SVGA, VGA
Backlight
White LED
User memory
Memory for storage (ROM): 57 MB (GT2705 has 32 MB)
Memory for operation (RAM): 256 MB

*1

[NEW]

(GT2705 has 80 MB)
Standard interface
Ethernet, RS-232, RS-422/485
USB host (USB-A): 2 channels

*2

(USB 2.0 (High-Speed 480 Mbps))
USB device (USB Mini-B): 1 channel (USB 2.0 (High-Speed 480 Mbps))
SD memory card interface
Extension interface
CC-Link IE TSN, CC-Link IE Control, CC-Link IE Field, CC-Link, bus, MELSECNET/H
Side interface
For installing a wireless LAN communication unit
*1

If the function version is B or earlier, the memory for operation (RAM) is 128 MB.

*2

White model has 1 channel.
With Backup/Restoration function, fear troubles no more!

The programs and parameters of the programmable controller CPU can be backed up to the SD memory card or USB memory device in the GOT. In case of a CPU failure, users can perform batch operation to restore the data to the controller.
GT27 model external appearance [Standard model: front face/rear face]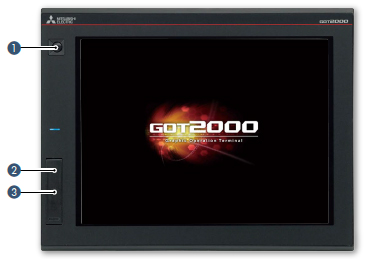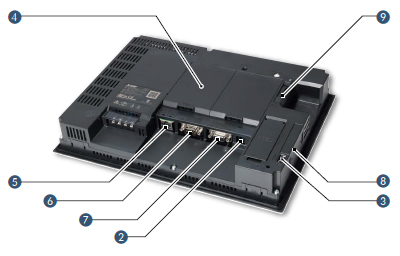 GT27 model external appearance [White model: front face]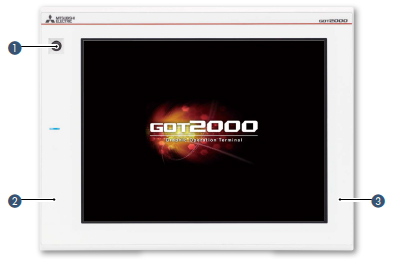 White model features
GOT is acceptable for use in hazardous locations classified by various safety standards (Class I, Division 2 [the United States, Canada], ATEX [Europe], KCs [Korea]).
* Supported standards vary depending on the model. For the details, please refer to the "Support various international standards".
GT27 model product map
See details of GT27 model product map