FA Integrated Selection Tool
What is FA Integrated Selection Tool?
You can easily perform various calculations required when checking product combinations and selecting models without looking at catalogs or manuals, and can create a "selection result" that is convenient when requesting a purchase quote.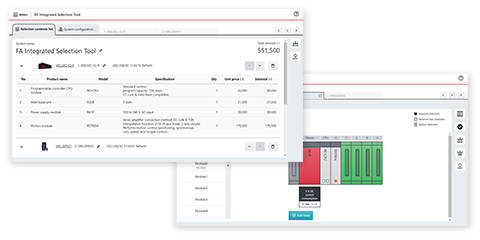 FA Integrated Selection Tool

Multiple device can be selected, and the entire system can be selected with one tool.
Device to be selected

Programmable Controllers MELSEC iQ-R
MELSEC iQ-F
MELSEC-Q
Remote I/O

NEW

AC Servos-MELSERVO
Inverters-FREQROL
Human-Machine Interfaces (HMIs)-GOT
Network interface board
Embedded type SSC

Can create a system configuration diagram.
Can also select optional products (cables, HUBs) for various networks.
Can output a list of selected product model name, quantity, standard price, and total price in Excel format.
Can load the results selected by Drive System Sizing Software Motorizer. What is Drive System Sizing Software Motorizer?
Before using this tool, read the following Precautions and Note.
This tool is designed for customers who are considering purchasing our products.
Use this tool for reference when selecting our products,
and be sure to check the specifications in the catalogs and manuals.
We are not liable for any loss or damage related to the use of this tool.
This tool is subject to change or end without notice.
Specifications of Mitsubishi Electric products are subject to change due to functional improvements or maintenance without notice.
Note that this tool selects system configurations according to specifications of products currently available in the market.
For this reason, the system configuration specifications may be different when applying to your existing system.
When considering to add products to your existing system, please check the system configuration specifications of relevant product
manual or consult your local Mitsubishi Electric representative.
Agree and use