Motor Starters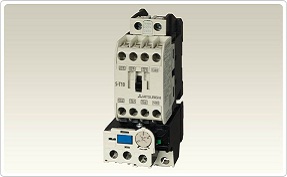 Protects your motor against risks.
Using CAN terminals for 10AF to 35AF that enable easy and safe wiring.
Surge absorbers can be fitted into models with 35AF or lower and the surge can be controlled with AC operated DC electromagnetic excitation for models with 50AF or higher.
Non Reversing Motor Starters without Enclosure
Suitable for motor start and stop switching and burnout protection.
Standard models comply with Japanese and many international standards.
Reversing Motor Starters without Enclosure
Suitable for AC motor forward or reverse rotation such as conveyor line.
Employs mechanical interlocks for better safety.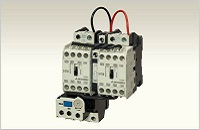 Mechanically Latched Motor Starters
Incorporated mechanical latch relay that maintains constant power even during power cut etc.
Suitable for distribution panels, memory circuits for core systems of buildings or others.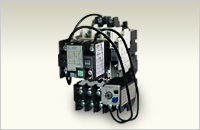 Delay Open Type Motor Starters
Keeps electricity flowing for 1 to 4 seconds during momentary power failure using the capacitor discharge.
Enables continued load control when the power is restored.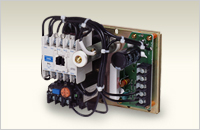 Enclosed Motor Starters
Motor starters enclosed in a box for the prevention of electric shocks and accumulation of dust.
Equipped with push buttons that make the switching on and off easy.
Motor Starter with Special Thermal Overload Relays
Lineup featuring protection for motors that have a long startup time or low heat capacity.