Vacuum Circuit Breakers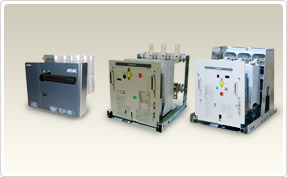 Providing high reliability and safety, and preserving environment.
Our VCBs have following features.
・a wide range of products lineup.
・no use of the six specified hazardous substance.
・the name of the material used is displayed on major plastic parts.
・adoption of foldable structure to mounting frame.
・simple maintenance.
・meeting for international standard.
VF Series
Future oriented high voltage alternating current circuit breakers which meet the requirement for preserving environment and simple maintenance.
Rated voltage 3.6/7.2kV
Rated short-circuit breaking current 8 - 40kA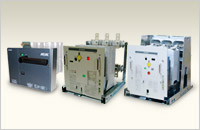 VPR Series
A wide range of high voltage and special high voltage alternating current circuit breakers product menu up to 24kV.
Rated voltage 3.6 - 24kV
Rated short-circuit breaking current 16 - 50kA