News Release Archives
Note that the releases are accurate at the time of publication but may be subject to change without notice.
FOR IMMEDIATE RELEASE No.2824
Mitsubishi Electric Successfully Launches TURKSAT-4A Satellite
Contributing to development of Turkey's communications and broadcasting infrastructure
TOKYO, February 17, 2014
-
Mitsubishi Electric Corporation
(TOKYO: 6503) announced today it has successfully launched the TURKSAT-4A satellite under a turnkey contract awarded by Turksat Satellite Communication, Cable TV and Operation Inc. Co. (Turksat A.S.) in March 2011. TURKSAT-4A was launched from the Baikonur Cosmodrome in Kazakhstan at 06:09 on February 15 (Japan time) and the satellite separated from the launch vehicle at 15:22.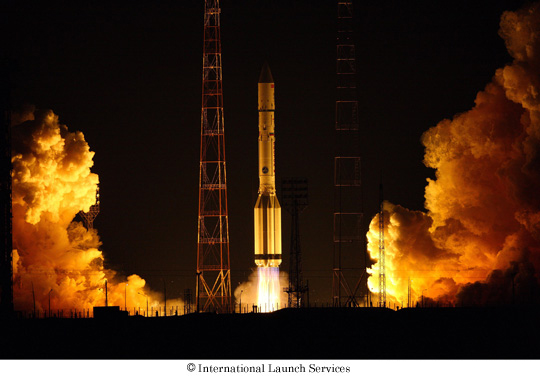 TURKSAT-4A will use its own power for positioning in geostationary orbit about 36,000 kilometers above the equator. Mitsubishi Electric will continue conducting in-orbit testing until the middle of March before its final handover to Turksat A.S.

In addition to TURKSAT-4A, Mitsubishi Electric will further its contribution to Turkey's communications and broadcasting infrastructure with the additional launch of TURKSAT-4B this year, as well as other satellite programs planned in the future.

TURKSAT-4A at a Glance
| | |
| --- | --- |
| Satellite platform | DS2000 |
| Orbital maneuver life | At least 30 years |
| Transponders | Ku-band and Ka-band |
| Mass | Approximately 4.8 tons (at launch) |
| Mission | Communications and broadcasting services in Turkey, Europe, Middle East, Central Asia and Africa |
| Delivery | Delivery in orbit |