Products
Space Systems
Satellite Platform DS2000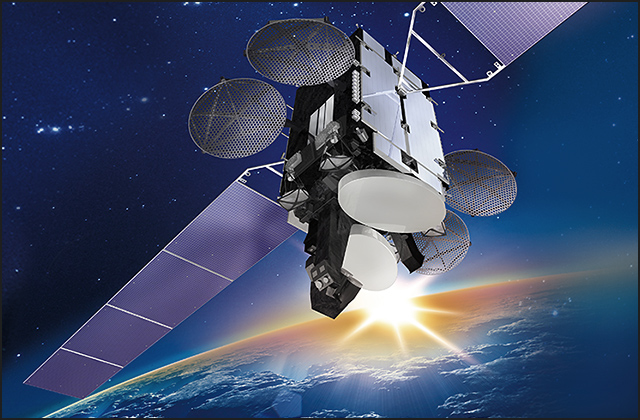 Highly reliable satellite series—DS2000
Mitsubishi Electric developed the first-ever Japanese-made standard satellite platform, the DS2000. It was well received in the market and has been utilized for various satellites over the years. Every satellite has a different role or function, and thus distinctive performance requirements. As such, they are traditionally made-to-order. Having accumulated proven reliability over years of successful mission life, the DS2000 platform offers a trustworthy foundation onto which customized mission subsystems are integrated according to the requirements specified. This enables high-quality satellites to be manufactured at low cost, and in an impressively short delivery time. In this way, Mitsubishi Electric flexibly responds to the ever-changing needs of its satellite customers.
System
Power

Up to 15kW

Launch Mass

3 – 5 tons class (approx.)

Life

15+ years

Launch Vehicle

Ariane-5, Proton M, Sea Launch, Land Launch, Atlas-V, Falcon 9, H-IIA
---
Facilities
Backing the performance and reliability of the DS2000 are Japan's largest satellite manufacturing and testing facilities. The 30.25m-high building has one basement level and five stories above ground, providing a total floor area of 23,886㎡ and a production capacity of eight large satellites per year. Structural rigidity is sufficient to withstand the intensity of strong earthquakes.
The full satellite production cycle, from design to assembly and testing, is carried out in our facility. Reductions in cost and production time are achieved by integrating the manufacturing and testing sites at the same works. Product quality and work efficiency enhancements have been achieved by incorporating a high-speed LAN, which enables the utilization of an advanced computer and information network.
Space Chamber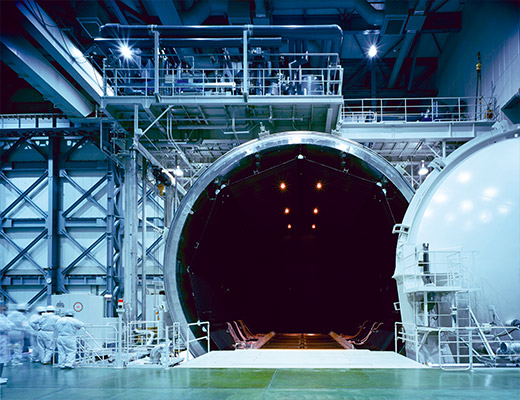 The space chamber enables a low-temperature, high-vacuum environment to be simulated. It is utilized for pre-launch performance testing of satellites.
Its 11.5m diameter and 11m length qualify it as Japan's largest space chamber (excluding the JAXA chamber).
Independent temperature control of six zones enables the simulation of a variety of space temperature conditions.
The chamber design is a horizontally oriented cylinder with a sliding main door. A flat floor greatly simplifies satellite handling and test setup.
Compact Antenna Test Range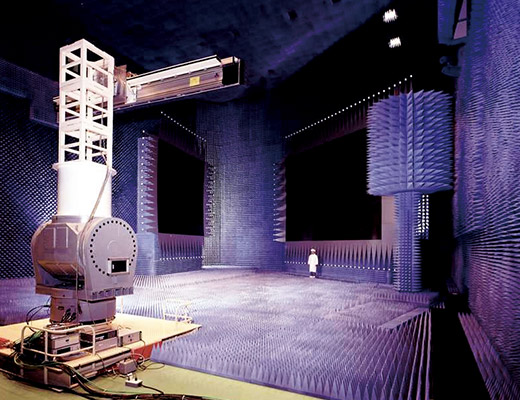 A compact antenna test range is used to test the functionality of various types of antenna.
The spacious test range measures 20x30x16m, and has a main reflector of 7.5x6.0m, a sub-reflector of 5.6x5.3m, and a 5m in diameter test zone. It is the largest compact test range in Japan.
The test frequency ranges from 1.5-100GHz meeting every kind of communication needs.
The test zone can be shifted to the left or right to facilitate test setup.
It is highly shielded and it can also be used for electromagnetic compatibility (EMC) testing.
---
Acoustic Chamber for Satellite Systems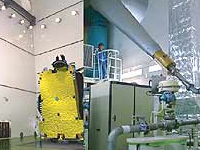 The acoustic chamber simulates the severe acoustic environment that satellites experience during the launch phase. It is the largest chamber in Japan.
Vibration Test Equipment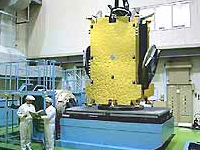 This system simulates the vibration that satellites experience during the launch phase. The vibration load it can apply immense.