GT2505-VTBD Compact body, clear and bright display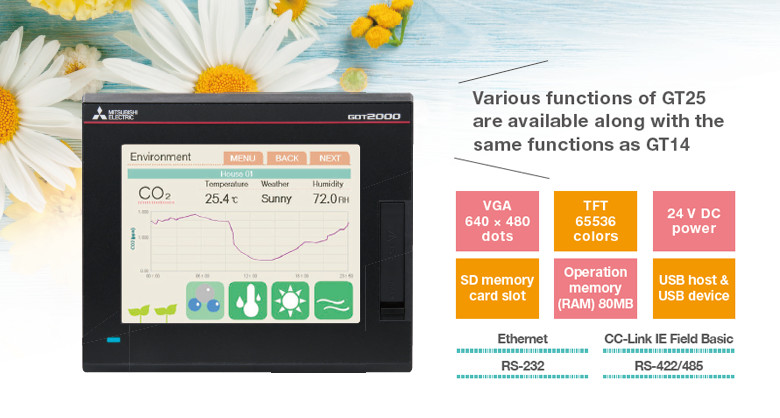 Panel cut dimensions compatible with existing models
Easy to replace GT14 models because of the same panel cut dimensions.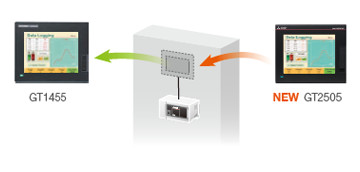 Clear display with 4 times higher resolution
Higher resolution while keeping the screen size the same as GT14 models. 640×480 dots high resolution LCD displays clear characters.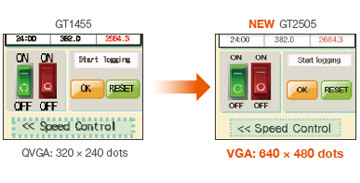 Recommended Functions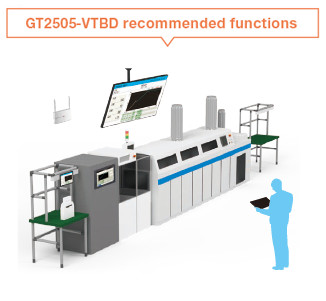 01 GOT Mobile function
Via GOT at the production site, connected devices can be monitored from multiple information devices (clients) such as computers and tablets in a remote location. You can check the production in a timely manner and take necessary actions immediately. Just display the production status on a large monitor, and you can easily implement an ANDON system.
*

A separate license (GT25-WEBSKEY) is required.

*

A browser (Google Chrome or Safari) is required on the client.

*

Up to five clients can connect to one GOT at the same time.

*

An access point is required separately because the wireless LAN communication unit cannot be used with GT2505.
For the details, please r efer to the GOT Smart Web-based Remote Solutions

()
02 Drive recorder
GOT can be used to display the screen equivalent to the drive recorder of MR Configurator2. Easily check the servo data (motor current, position command, etc.) on GOT without using a personal computer.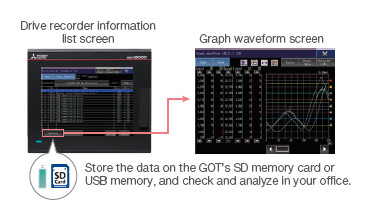 03 System launcher/
System launcher (servo network)
A graphical configuration diagram of programmable controller and servo systems indicates module statuses.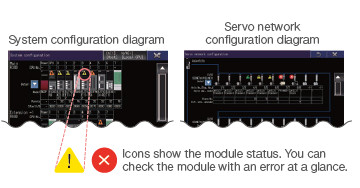 04 Sequence program monitor (Ladder)/(iQ-R ladder)
When an error occurs, GOT can monitor and edit a sequence program in a controller in the ladder format, and also can change current values of devices. There is no need for a personal computer.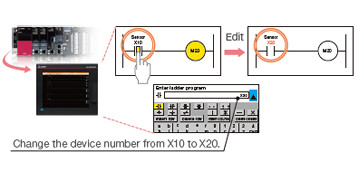 05 Operation log
GOT records all the operations performed by operators. Checking the recorded operation history helps you to identify and analyze the cause of the error occurred due to improper operations, leading to making improvements, preventing reoccurrence, and enhancing traceability.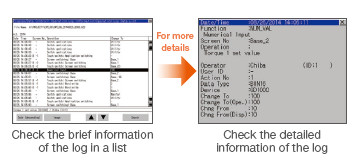 GT2505 system configuration

*

Can be converted to RS-485 by using GT14-RS2T4-9P.
Professional Designs in Just a Few Clicks

You can design GOT widescreens with GT Works3, familiar software that can be commonly used for the GOT2000 Series.
*

Use GT Works3 Version 1.180N or later to design screens of GT2505.

*

For the details of GT Works3 functions, please refer to "GT Works3".
GOT2000 Series 5.7-inch models functions list
Item
GT2705
GT2505
GT1455
Hardware specifications
Memory
Memory for storage (ROM)
32MB
32MB
9MB
Memory for operation (RAM)
80MB
80MB
-
SRAM user area/D drive
●/-
●/-
●/●
Ethernet/CC-Link IE Field Basic
●/●
●/●
●/-
USB host/USB device
●/●
●/●
●/●
Extension interface/Side interface
●

*2

-
-
Touch panel simultaneous press (two points)
●
-
-
Vertical display

*1

●
Rotate 90° to left
●
Rotate 90° to right
●
Rotate 90° to right
Functions
Recipe display(record list)
●
●
-
Document display

Memory

●
●
-
Historical trend graph

(Memory)

●
●
●
Logging

(Memory)

(Battery)

●
●
●
GOT Mobile function

License

(Memory)

●
●
-
VNC server function

License

●
●
●
Remote personal computer operation function (Ethernet)

License

●
●
-
Sound output function

Unit

●
-
-
MES interface function

License

(Memory)

●
●
-
Wireless LAN function

Unit

●
-
-
Operation log

Memory

●
●
-
KANA KANJI conversion
●
●
●
Backup/Restoration

Memory

●
●
●
FA transparent
●
●
●
Multi-channel function

(Unit)

●

*3


4channels
●

*4


4channels
●

*4


2channels
Multiple GOT connection
-
-
●
SoftGOT-GOT link

License

●
●
-
Gesture function
●
-
-
Sequence program monitor (Ladder) / (iQ-R ladder)

Memory

●
●
-
Sequence program monitor (SFC)

Memory

●
●
-
Network monitor
●
●
-
CC-Link IE Field Network diagnostics
●
●
-
Drive recorder

(Memory)

●
●
-
Servo amplifier monitor
●
●
-
R/Q motion monitor
●
●
-
Log viewer

(Memory)

●
●
-
System launcher
●
●
-
System launcher (servo network)
●
●
-
Unit

Option unit required

License

License required

Memory

SD memory card or USB memory required

Battery

Battery required

( )

Required depending on conditions of use
■ Related materials

Compact body, clear and bright display

< Contents >
Various functions of GT25 are available along with the same functions as GT14