Air Conditioning and Refrigeration Systems
Contribute to creating a safe, secure and comfortable society and achieving a decarbonized society as a global comprehensive
air-conditioning & refrigeration manufacturer offering excellent air conditioning and ventilation technologies as well as life cycle solutions
Our Technology Edge
From breakthroughs in key components to innovation in the design and control of air-conditioning systems,
each advance enables us to offer better comfort solutions for the home, business and industrial environment.
Efficient, effective, eco-conscious and enduring — our technology is the key to customized comfort.
Core Devices
New eco-conscious technologies are at the heart of our air-conditioning and refrigeration systems.
These core devices are the key to the extremely high efficiency of our high-reliability products.
High-efficiency, High-performance Inverter Compressors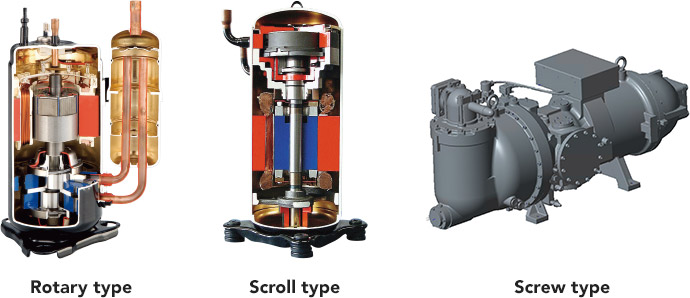 Found in a wide variety of applications, our compressors use a new refrigerant that has minimal impact on the environment and feature technologies for improved efficiency and a more compact form.
"Personal Twin-flow"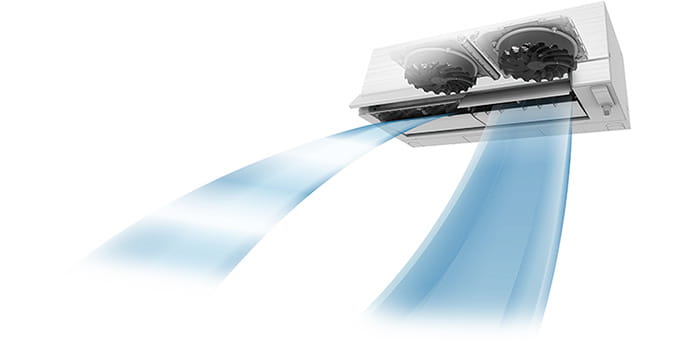 Personal twin-flow*As of October 30, 2015 based on Mitsubishi Electric research.
This is the world's first twin-fan technology to use two groups of highly efficient fans. Each fan group operates independently, controlling the temperatures of two separate areas simultaneously and delivering maximum comfort to the occupants in each area.
Joint Lap Motor

Joint lap motor for home appliances
Our unique joint lap motor has minimal negative environmental impact, using less copper wiring than conventional motors and features an original high-density, concentrated winding. The result is a highly efficient motor with excellent reliability.
High-efficiency Control SiC Power Semiconductor Devices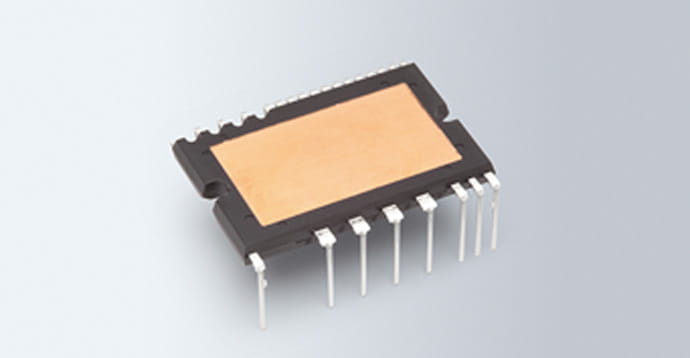 SiC power semiconductor devices for home appliances
We are developing power semiconductor devices that use silicon carbide (SiC), a promising material for next-generation power semiconductors. Our SiC power semiconductor devices make it possible to reduce the size and raise the efficiency of inverters in home appliances such as air-conditioners and refrigerators.
Flat-tube Heat Exchanger

Conventional copper tubeAluminum flat tube*As of October 2013 for VRF systems.
We were first in the world to use an aluminum flat-tube heat exchanger in its products. The flat tubes reduce airflow resistance and increase the number of tubes compared to conventional heat exchangers for increased surface area in contact with the refrigerant, greatly improving heat exchange performance. The result is a high performance and better efficiency.
Room Air-conditioners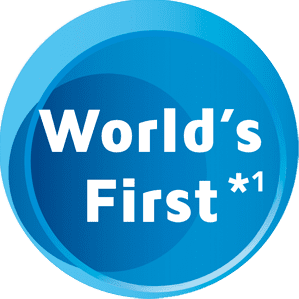 The first revolutionary change in indoor units in 50 years
— a system of two independent fans to deliver enhanced comfort to each family member.
KIRIGAMINE FZ Series*2

"Personal Twin-flow" air-conditioners, featuring the world's first two independent-driven fan systems and sensors to detect the temperature felt by users, save energy and bring comfort to each individual.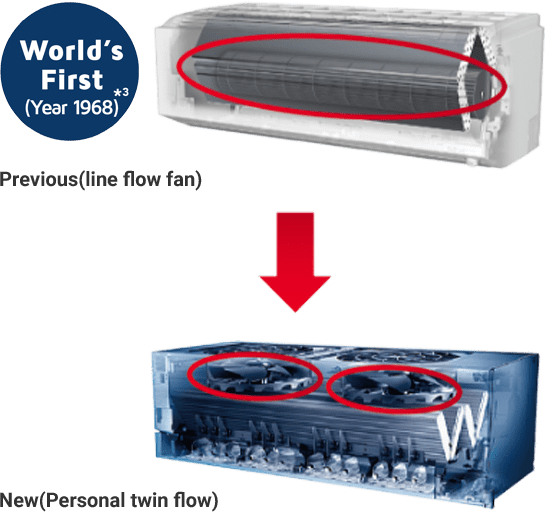 *1As of October 30, 2015 based on Mitsubishi Electric research of home air-conditioner products.
*2On sale in Japan only as of March 2017.
*3As of August 2015 based on Mitsubishi Electric research.
Move Eye mirA.I.+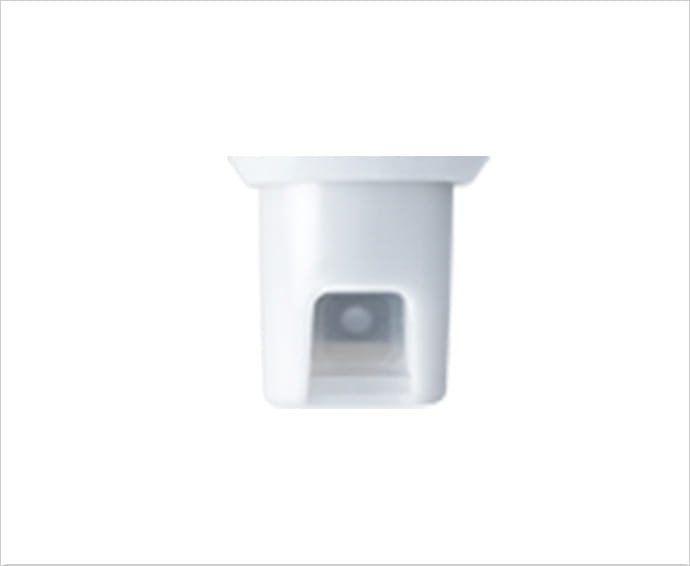 High-precision infrared sensor, "Move Eye mirA.I.+", can detect changes in room temperature with its 360-degree sensing sensor and AI at the touch of a button, and automatically adjust the operation.
Pure Mist, an electrically charged mist, cleans the air in your room.
Variable Refrigerant Flow(VRF)
CITY MULTI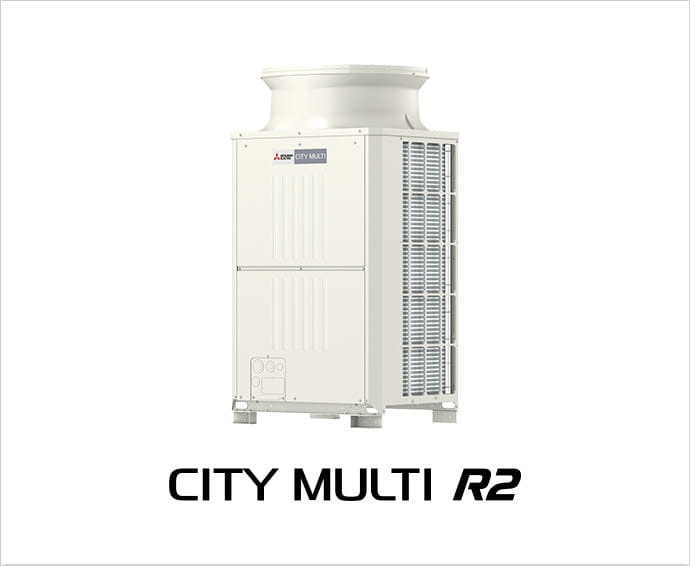 The world's first and only "two-pipe" simultaneous cooling and heating system provides better efficiency and performance.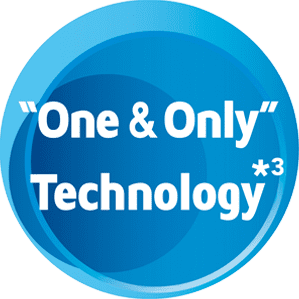 Our proprietary two-pipe refrigerant circuit can simultaneously cool and heat different rooms with one outdoor unit. Only Mitsubishi Electric products feature this unique two-piped circuit, which also reduces the number of pipes and joints required for installation.
Comparison of pipe connection points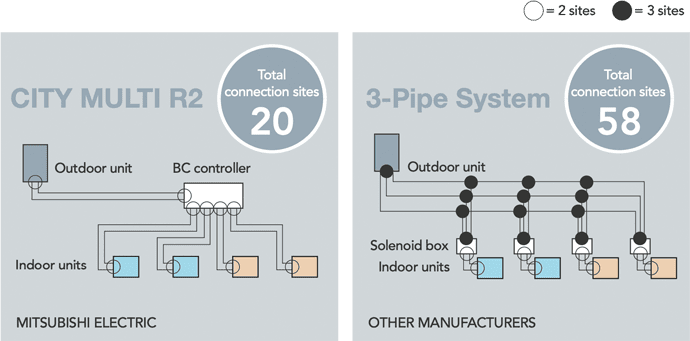 *3As of September 2014 based on Mitsubishi Electric research.
Simultaneous heating and cooling with one outdoor unit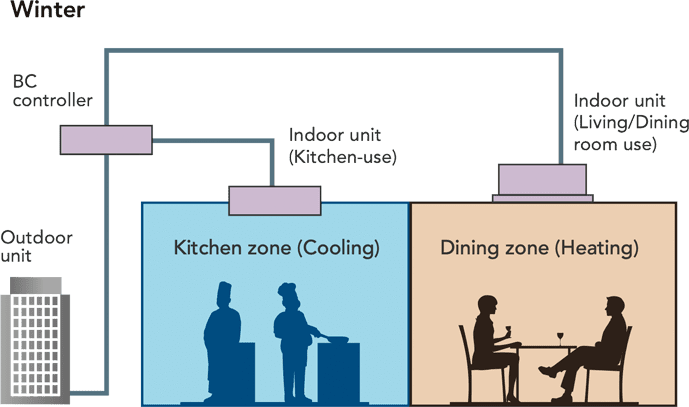 HYBRID VRF (HVRF)
Two-pipe heat recovery VRF with water between the HBC (Hydro BC controller) and indoor units. It provides the advantages for both VRF and chillers. Energy efficiency, ease of installation, low maintenance.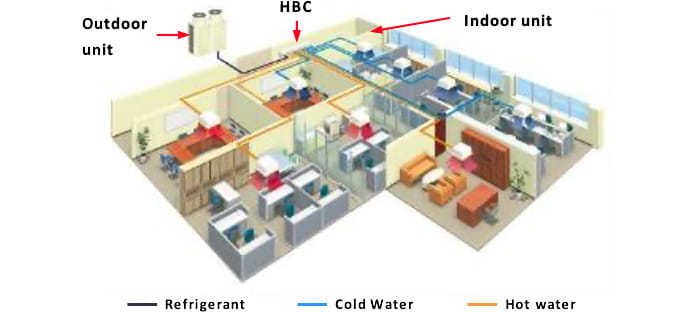 AI Smart Start-up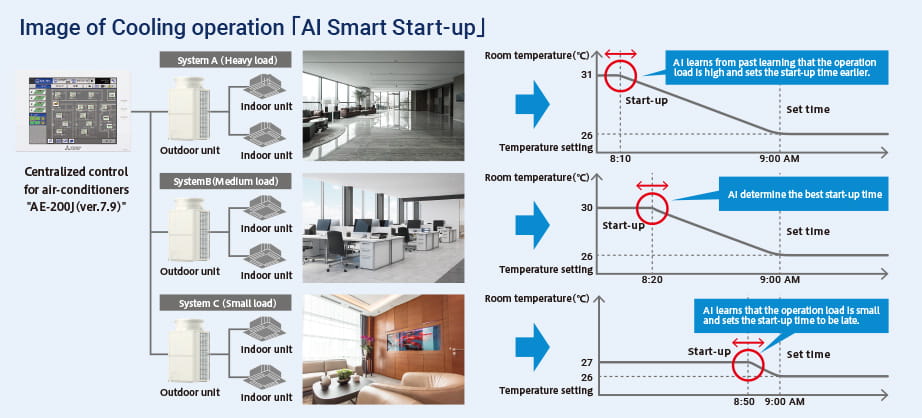 For the first time in the industry,*1 our centralized control for air-conditioners "AE-200J" is equipped with our AI technology "Maisart®",*2
"AI Smart Start-up" automatically sets the optimal start-up time for multiple outdoor units individually by learning five parameters: outdoor temperature, room temperature, number of units in operation, time setting, temperature setting. It contributes to improved comfort and energy efficiency.
*1:As of February 27, 2020 based on Mitsubishi Electric research for VRF.
*2:Mitsubishi Electric's brand of AI technology. The name stands for"Mitsubishi Electric's AI creates the State-of-the-ART in technology."
Air Purification Technology
Plasma Quad Technology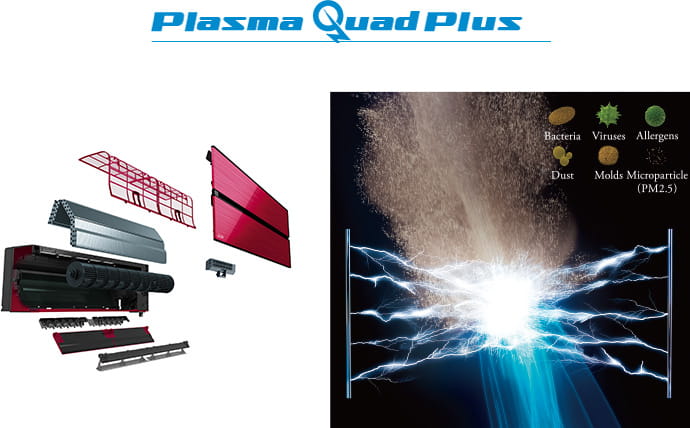 Plasma Quad is an air purifying technology developed by Mitsubishi Electric in 2012. It suppresses airborne viruses, bacteria, allergens and other air pollutants as they pass through an electrical field that is generated by applying DC voltage to a discharger comprising a discharging electrode and counter electrode.
Plasma Quad Plus has the second stage that effectively captures small particles such as PM2.5 by absorbing them with another electrical field, which contributes to even better air purifying performance.
Plasma Quad technology is used for Plasma Quad Plus, Connect and protect, too.
Please see the video for more information about Plasma Quad Technology.