Product Features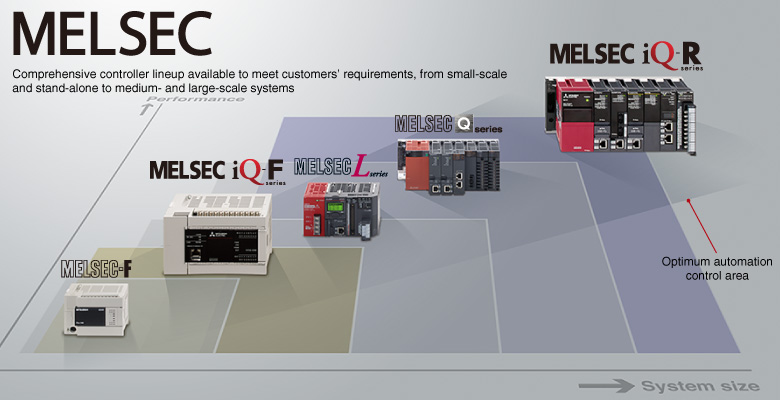 Medium- to large-scale control
MELSEC iQ-R Series

A next-generation programmable automation controller (PAC), the MELSEC iQ-R Series incorporates a revolutionary high-speed system bus that improves productivity through advanced performance and functionality.
MELSEC-Q Series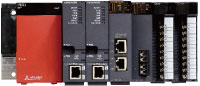 The first to incorporate the multiple CPU architecture, the MELSEC-Q Series wide-range of CPUs enables control of multiple operations, improving the performance and scalability of the overall production system.
Small- to medium-scale control
MELSEC-L Series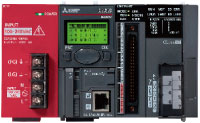 The MELSEC-L Series is a baseless highly scalable controller ideal for applications having limited space. With various I/O functionality embedded into the CPU head, exceptional cost versus performance is achieved in a compact body.
Small-scale and stand-alone
MELSEC iQ-F Series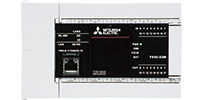 Designed to provide outstanding performance and superior drive control, the MELSEC iQ-F Series is a high-performance compact-class controller with a rich assortment of integrated functions.
MELSEC-F Series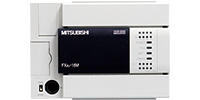 Incorporating abundant features with a flexible system configuration, the MELSEC-F Series has a power supply, CPU and I/Os into a single compact body. Furthermore, a diverse range of options are available to further expand its capabilities.
Application-specific CPUs

*1: R◻SFCPU-SET includes both a safety CPU and safety function module