Motion Controllers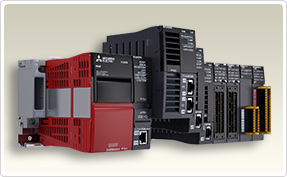 Total system performance, not individual component specifications leads to maximum performance.
Servo system controllers are control devices that achieve high speed and high accuracy drive control for each industrial machine.
A variety of PLC system-based and industrial PC-based servo system controllers included in our product line ups. Suitable module can be selected for system requested.
Product List
High performance servo system controllers for iQ Platform.

---

• Motion module
• Motion Controller
• Simple Motion module

Servo system controllers for MELSEC iQ-F series PLC.

---

High performance servo system controllers for iQ Platform.

---

• Motion Controller
• Stand-Alone Motion Controller
• Simple Motion module

Servo system controllers for MELSEC-L series PLC.

---

C Controller/computer embedded type servo system controller.

---

• Simple Motion board
• Position board
• C Controller Interface module

Single Axis Motion Controller

Compact module with power supply and Motion controller.

---

Network related products

---

• Sensing module
• Optical Hub Unit

Optimized products with knowhow for supporting problem solutions in manufacturing.

---

• iQ Monozukuri CONVERTING
• iQ Monozukuri HANDLING
• iQ Monozukuri PACKAGING

The software offering more comfortable engineering environment that strongly supports Motion system configuration.

---

• MELSOFT iQ Works
• MELSOFT MT Works2