3D Laser Processing Machines
3D laser processing machines open the door to new laser cutting/welding applications.
From prototypes to production runs, Mitsubishi 3D laser processing machines offer the ultimate in accuracy, speed and efficiency. VZ10 and VZ20 are designed to serve the market's ever-changing needs.

Please refer to web site of MITSUBISHI ELECTRIC AUTOMATION (THAILAND) CO., LTD. for details.
VZ10 series
Zero offset head design. Increased corner speed shortens production time. The right choice for users specializing in cutting 3D pre-formed parts.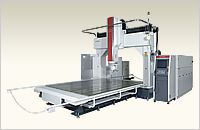 VZ20 series
Offset head design. Delivers multi-purpose flexibility for laser cutting and welding applications. The perfect choice for deep-drawn, pre-formed parts.