Laser Cutting Cell System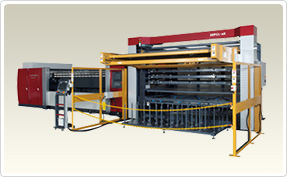 Boosts productivity and responds specifically to user needs.
Offers the ability to respond specifically to user needs. Mitsubishi's stocker systems optimize the laser system's production efficiency and allow for zero-micro-joint processing.

Please refer to web site of MITSUBISHI ELECTRIC AUTOMATION (THAILAND) CO., LTD. for details.
PCL-eX series
Pallet changer/stocker
Automated stocker system provides a large storage capacity and allows for continuous operation. Laterally extended, according to available floor space.