Products
Space Systems
Satellite Components

BUS Equipment
Solar Array Panel (SAP) and Solar Array Wing
Solar array panels generate electric power for satellite operation. Compared to products for terrestrial use, these panels are lighter, more efficient, have a longer service life, and are more resistant to cosmic radiation.
Solar Array Panel
It holds 40% of global market share
Long-term purchase agreement with major satellite manufacturers in US and Europe
No failure reported over 1000 panels in orbit since the first flight in 1997
Solar Array Wing
Flight heritage of Solar Array Wings for nine DS2000* satellites
No failure reported in orbit since the first flight in 2003
* DS2000: MELCO satellite standard bus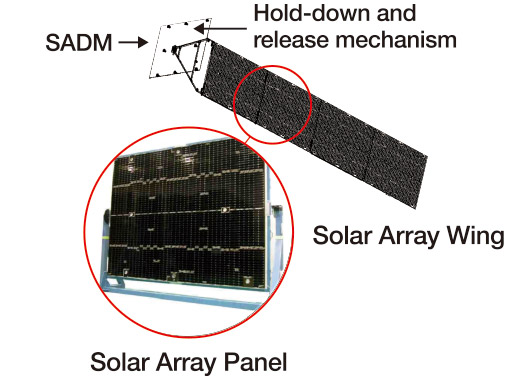 ---
Structural Panel &amp Heat Pipe Panel
Heat pipe panels diffuse heat generated in satellite by transferring it to components that dissipate it. Their function is to maintain a steady temperature inside the satellite.
Aluminum Panels CFRP (*) Panels
Over 100 satellites launched including the global operator's programs such as Intelsat, Eutelsat and SES equipped with MELCO structural panels
Holds more than 30% of global market share
Long-Term Purchase Agreement with major satellite manufacturer in US
No failure reported ever over 9000 panels in orbit
Deployable Radiator
Flight heritage of deployable radiator for Japanese domestic satellite achieved in 2006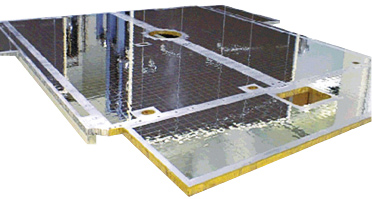 Lithium-Ion Batteries (LIB)
Lithium-ion batteries store electric power generated by the solar array panels. They weigh roughly half as much as conventional batteries with the same capacity.
Since 2003, over 100 batteries and 1200 cells flown to space for the global operator's programs such as Intelsat, Eutelsat and SES
Holds more than 35% of global market share
Long-Term Purchase Agreement with major satellite manufacturers in US and Europe
No failure reported on all of batteries and cells in orbit with accumulated operation period of more than 100 years-satellites in space
High energy density, low mass and small volume