Products

The scope of Mitsubishi Electric systems and solutions helping to improve peoples' quality of life is impressively broad. From superconducting magnets and particle therapy systems to public administration systems, large-scale visual information systems and water systems for the social infrastructure, our innovative technologies are providing benefits in wide-ranging areas of society.
NOTE: This website introduces products and systems sold in Japan; some products may not be available in certain markets outside Japan.
Select product and location

to find local site or to send product inquiry.
Product List
Applied Superconductor Systems
Superconductivity is characterized by zero electrical resistance at very low temperatures. It enables efficient energy use in numerous fields by preventing energy loss, by producing a high magnetic field, and by facilitating the downsizing of equipment. Mitsubishi Electric manufactures various types of electric magnets that apply the superconductivity phenomenon, and strives to meet every customer's needs, from medical devices to the most-advanced research equipment.
Superconducting Magnet for MRI (Magnetic Resonance Imaging)
MRI takes advantage of the nuclear magnetic resonance phenomenon to visualize the structure and function of the body. By employing a remarkable magnetic field adjustment technology, Mitsubishi Electric has achieved the world's highest level of magnetic field homogeneity in a 1.5 Tesla superconducting magnet for MRI.
The company has also achieved the world's first superconducting magnet with zero boil-off of liquid helium. To date, approximately 1000 of these units have been delivered.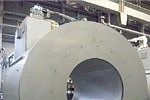 Superconducting Magnet for Magnetic CZ (MCZ) Apparatus
A superconducting magnet that applies a magnetic field to form an ingot of high-purity crystalline silicon for use in semiconductor silicon wafers.
Mitsubishi Electric has adopted a saddle type coil for the magnet in order to efficiently produce a wide horizontal magnetic field. As a result, this product is both compact and lightweight, and produces a minimal stray magnetic field.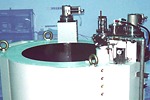 Superconducting Magnet for Scientific Research
A superconducting magnet for generating a powerful magnetic field. Mitsubishi Electric has a successful track record gained from experience in many large research accelerator projects. We are applying our innovative, high-performance superconducting magnets to contribute to the world of scientific research into, experimental high-energy physics and nuclear fusion.
Photo: RIKEN
An SRC (superconducting ring cyclotron) employing a powerful superconducting magnet manufactured by Mitsubishi Electric.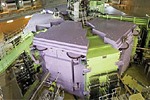 Doppler Lidar Systems
Doppler Lidar Systems
Doppler Lidar system transmits laser beams, receives the light backscattered by aerosols such as dust and other particles in the air, and measures the line-of-sight component of wind speed using the Doppler frequency shift of the backscattered light. Since a Doppler Lidar system can measure the distance between the lidar and particles in the air utilizing the roundtrip time of backscattered light, unlike conventional anemometers, wind direction and speed can be measured remotely.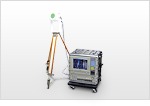 Microwave Tubes
Microwave Tubes
Mitsubishi Electric's klystrons and gyrotrons have been applied to medical accelerators, research accelerators, industrial accelerators, industrial heating systems and radar systems since the 1970s. We offer a broad lineup of products that produce up to 50MW output power at frequencies ranging from the L, S, C, X to Ka bands. These products provide long life and high reliability based on Mitsubishi Electric's state-of-the-art microwave technology and strict quality control. As proof of excellent quality management and environmental management, our microwave tube factory has acquired ISO9001 and ISO14001 certification.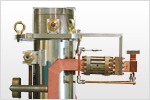 Particle Therapy Systems
Particle Therapy Systems
Mitsubishi Electric offers two types of particle therapy system: the Proton Type, which produces a proton beam by accelerating the positively charged particle (ion) that results from stripping a single electron from a hydrogen atom, and can be used for proton beam treatment; and the Carbon and Proton Type, which accelerates the nucleus of elements with an atom heavier than a proton, such as carbon and helium, and can be used for heavy ion beam or proton beam treatment.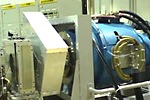 Uninterruptible Power Supplies
Uninterruptible Power Supplies
Mitsubishi Electric manufactures high quality uninterruptible power supplies to protect mission-critical data centers and equipment during times of power instability and is globally recognized for innovation and excellence, and dedicated to staying at the forefront of technology. We provide reliable, environmentally-friendly UPS systems to ensure uptime, prevent data loss and protect against power surges and outages.
- Three Phase UPS
- Multi-Module Configurations
- Single Phase UPS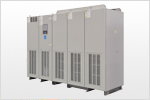 Water Treatment Systems
Ozone Generator
Mitsubishi Electric produces cost-efficient ozone generation water treatment systems of various sizes and capacities for industrial applications and municipal government use. These systems generate ozone more efficiently using less electricity. The ozone is used to purify river water or wastewater, eliminating bacteria that cause odor and color, and creating safe, clean water for reuse.