Air-cooled Generators
The simple structure of the outstanding air-cooled generators ensures easy maintenance and short time installation.

Specifications
Output
~400MVA class (FTC)
~100MVA class (SFM)
Voltage
~21kV
Thermal insulation class
Class 155 (F)
Temperature rise
Class 130 (B)
Rotational speed
3,000min-1
Frequency
50Hz / 60Hz
Efficiency
~98.8%
*

Separate series 20MVA class 4-pole generator also available
Latest Technologies
New ventilation system for larger output
The latest analytical technologies applied, achieving an optimal cooling system that suppresses temperature rise throughout the generator and realizes higher generator output.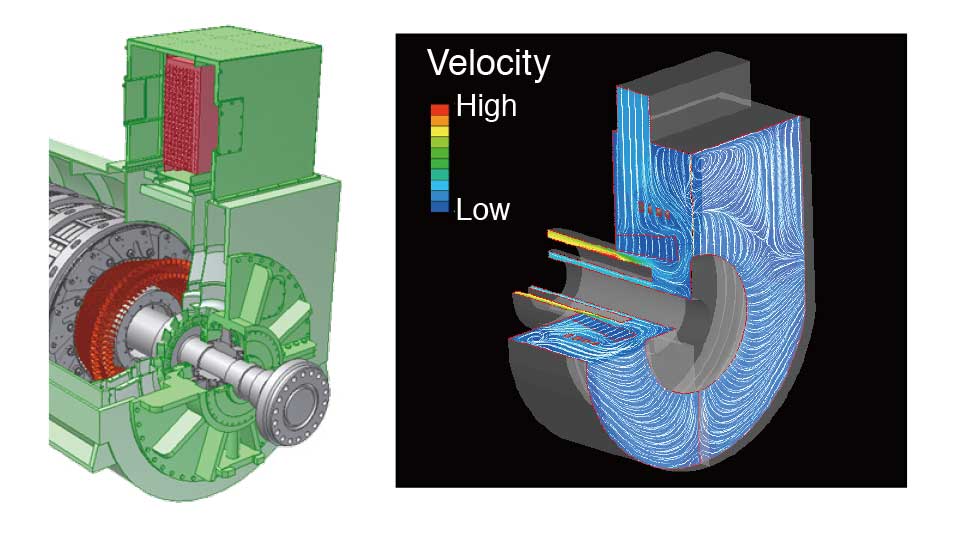 Higher efficiency fan for lower windage loss
A small, high efficiency propeller fan is incorporated to ensure that required fan characteristics are realized, sufficiently reducing wind loss and realizing a high efficiency generator.
SFM(Simple Frame Modular)
For small and medium output air-cooled generator(up to 100 MVA class)

FTC(Fan-to-Cooler)
For large output air-cooled generator(from 100 MVA class)