MELSERVO-J4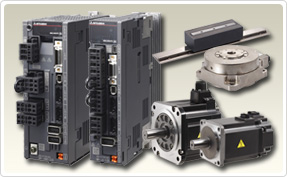 Not just the fastest, but the safest and most eco-friendly.
MELSERVO introduces the latest servo amplifiers to the market based on the concept of Human (User friendly and Safety function), Machine (High performance) and Environment (Energy saving).
Servo Amplifier
Compatible with SSCNETIII/H, General-purpose (Pulse and Analog input) interface. Compliant with safety standards. 2/3-axis servo amplifier.
Rotary Servo Motor
4 Million pulse/rev encoder, 200VAC Class and range of products from 50W to 7kW.
HG-KR/HG-MR/HG-SR Series.