Laser Drilling Machines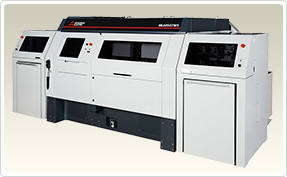 Mitsubishi Electric takes laser drilling machines to a whole new level.
Key components such as laser oscillators, galvano scanners, f-theta lenses and control devices are all originally developed and manufactured by Mitsubishi Electric thanks to its comprehensiveness as a leading laser processing machine and factory automation equipment manufacturer, promising high product quality and reliable service.
Numerous honorable awards are granted for Mitsubishi Electric original technology and outstanding performance record.
GTW5 series
2-beam-2-panel model
New control method "Synchrom" technology equipped as standard function achieves overwhelming productivity, stable processing quality and high positioning accuracy.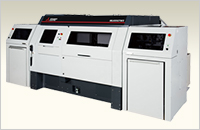 GTF4 series
4-beam-2-panel model
Mitsubishi Electric original beam splitting technology realizes high-quality and high-accuracy simultaneous 4-beam processing. Productivity in package substrate processing is drastically improved.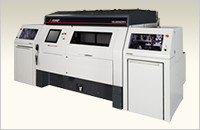 GTW5-UVF20 series
2-beam-2-panel model
The GTW5-UVF20 series is equipped with a high-speed UV laser oscillator, Mitsubishi Electric's self-developed galvano scanner and new control technology "Synchrome" to deliver high-speed and stable drilling on flexible substrates.